SF Sketchfest 2023:
Stop Joking For 100 Years And Other Requests From My Kid (Stories of Parenting and Childhood) - 7:30pm Show
Dana Gould
Eugene Mirman
Jena Friedman
Mary Lynn Rajskub
Baron Vaughn
Tickets: $45.00
Ages 21 and Up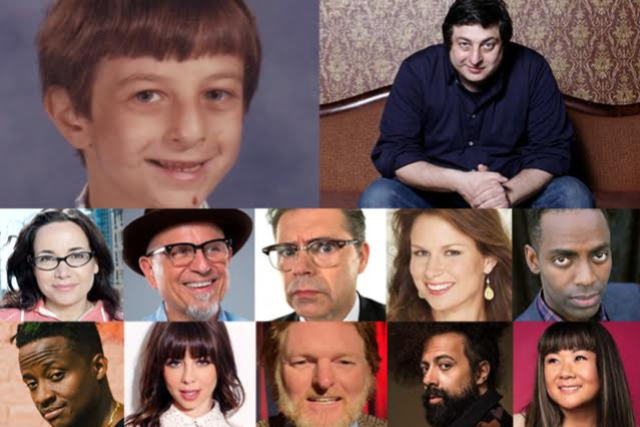 Artists
Janeane Garofalo
Actress and Comedian Janeane Garofalo has been an American institution since she burst on the scene in 1992.

In addition to acting in film and television Janeane is an outspoken activist spoken word performer and stand-up comedy entertainer known and respected around the country and the world. As well she was instrumental in the successful launching of the first liberal radio network Air America Radio where she hosted her own talk show "The Majority Report." A lightning rod for controversy Janeane's well informed opinions and unflinching honesty have inspired laughs as well as striking a chord with the left right and everyone in between. She is a noted peace activist.

Janeane has had many memorable and critically acclaimed roles in films such as "The Truth About Cats and Dogs " "Steal This Movie " "Copland " "Reality Bites " and "Duane Hopwood " as well as for her specific brand of sharp wit and comedy shown in her roles in "Romy and Michelle's High School Reunion " "Bye Bye Love " "Mystery Men " "Clay Pigeons " "The Minus Man" and "The Cable Guy " directed by her friend Ben Stiller. Ben and Janeane also co-authored the best seller "Feel This Book " (Ballantine May 1999). Janeane was also a cast member of the Emmy Award-winning Ben Stiller Show.

Janeane played the role of Paula the acerbic talent booker on "The Larry Sanders Show " for which she received an Emmy nomination in 1997 and two Cable Ace nominations. During the fall of '94 she joined the cast of "Saturday Night Live." Some of Janeane's other television work includes two specials for HBO the series finale of "Mad About You" and the critically lauded final season of NBC's "The West Wing " where she played Democratic campaign strategist Louise Thornton.

In 2007 Janeane's voice was featured in the Disney/Pixar animated comedy Ratatouille and can be seen in Stella writer/director David Wain's ensemble comedy "The Ten." Janeane can also be seen in the Lifetime movie "Girl's Best Friend" and as a character on the 2009 season of "24."

Dana Gould
I was born and raised in the ironically-named town of Hopedale Mass. I started performing stand-up comedy at the tender age of 17. As a performer I was too young to be any good. As a person I was socially inept and looked weird. Let's skip ahead! I moved to Los Angeles in the halcyon days of "The Comedy Boom" and in quick succession I performed in several HBO specials numerous appearances on Conan and Letterman. I recorded the CD Funhouse which was called "a comedy CD" by Billboard magazine and an actor appeared on Seinfeld The Ben Stiller Show and the series "Working" (which wasn't and was soon cancelled). After writing the pilot "World On A String" (with Jay Kogen) I co-created MTV's late lamented Super Adventure Team (with Rob Cohen). I then joined the staff of The Simpsons where I squatted for seven years. Stand up remains a big part of my career and I continue to perform regularly. I recently appeared in the film "The Aristocrats". and am preparing to record my next stand-up CD. I live in Los Angeles with my wife and a bunch of kids and dogs several of them ours.




Mary Lynn Rajskub
Mary Lynn Rajskub has established herself as a versatile and dynamic actress writer and performer through impressive television and film roles as well as stand-out live performances. Her fan-favorite role as computer genius Chloe O'Brian on FOX's smash hit 24 helped earn the show a 2006 Emmy win for Best Drama as well as 2006 and 2005 SAG nominations for Outstanding Performance by an Ensemble in a Drama Series.
Rajskub went to art school for painting but discovered performing arts. After her first one-woman show she received a review saying her performance was "one of the strangest and funniest performances I have ever seen." From that moment she began honing her skills as a comedian and dramatic actress.
After arriving in Los Angeles Mary Lynn was cast on David Cross and Bob Odenkirk's critically acclaimed HBO sketch comedy Series Mr. Show with Bob and David. Quickly thereafter she joined HBO's The Larry Sanders Show. In addition to 24 her recent episodic work includes It's Always Sunny in Philadelphia Flight of the Conchords Raising Hope and Modern Family.
Mary Lynn's big screen credits include Julie and Julia with Meryl Streep and Amy Adams Firewall opposite Harrison Ford Legally Blonde II: Red White and Blonde Sweet Home Alabama Dude Where's My Car and Roadtrip. She can also be seen in indie hits including Sunshine Cleaning with Amy Adams and Emily Blunt Academy Award winning Little Miss Sunshine Punch Drunk Love starring Adam Sandler and in the upcoming film Safety Not Guaranteed which aired at Sundance.
Mary Lynn is currently making a return to stand up comedy where she has an established cult following and resides in Los Angeles with her husband and their son.

Baron Vaughn
Actor/comedian Baron Vaughn appears on the USA Network show FAIRLY LEGAL in Vancouver. When he isn't shooting he performs stand-up at clubs around the country. He has also performed at numerous comedy festivals including the HBO Comedy Festival in Aspen the Comedy Central Festival in South Beach and the 2010 Bonnaroo Music & Arts Festival.

As a comedian he has been featured on NBC's LATE NIGHT WITH JIMMY FALLON Comedy Central's LIVE AT GOTHAM AWKWARD COMEDY SHOW RUSSELL SIMMONS PRESENTS STAND-UP AT THE EL REY LOPEZ TONIGHT and most recently on CONAN on TBS.

Other television credits include "Law & Order " "Law & Order: Criminal Intent" and "Rescue Me." Vaughn has also appeared in films such as J.J. Abrams' "Cloverfield" and "Black Dynamite." His stage work includes "Damn Yankees" at the NY City Center with Jane Krakowski and Sean Hayes. His first comedy album RAISED BY CABLE was released in September 2011.