Noise Pop Presents:
Bearcubs
Fri,
Oct 28
Doors:

8:00 pm
|
Show:

9:00 pm
Tickets: $20.00
Ages 21 and Up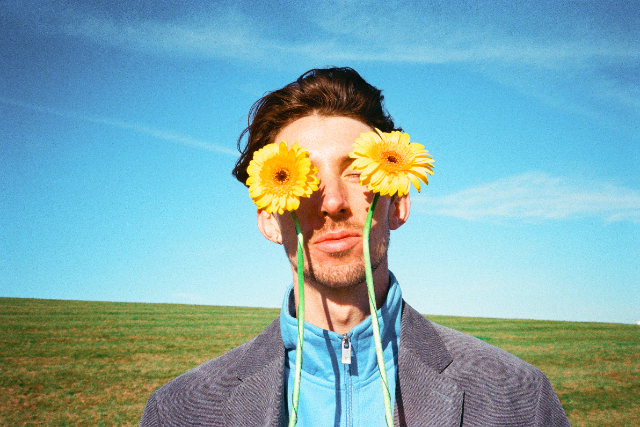 Swedish American Hall and Cafe du Nord are committed to producing safe events. The City and County of San Francisco have mandated all patrons attending events at The Swedish American Hall and Cafe du Nord are required to show proof of full vaccination (must be 2 weeks past final dose). Masks are also required.

*Policy is subject to change
Artists
Bearcubs
BEARCUBS BIOGRAPHY
It's seven years into the story of Bearcubs, the immersive solo project from 30 year old electronic artist Jack Ritchie. A meticulously skillful producer, with a sound underpinned by warm textured synths, soulful feather-light vocals and addictive sound design elements, Bearcubs has created his own fiercely independent path. After a string of singles and two highly-acclaimed EPs which earned him recognition from the likes of The Fader, Mixmag, Noisey and respected tastemakers such as Annie Mac and Zane Lowe, 2018 saw the release of his debut album Ultraviolet. Cementing him as a versatile producer and innovative songwriter, the album highlights the diversity of his influences and inspirations ranging from minimalistic, ambient moments to powerful, heartwarming productions. "Ultraviolet was more just about getting out a lot of ideas I had on my mind in a short space of time beyond what I had released before", Jack explains.
Making a much-anticipated relocation to Berlin in 2019 to find new inspiration and collaborations, Bearcubs discovered a new energy for creating music. As the stars aligned in his personal and creative world, he was offered the opportunity to score the debut feature length film 'Relativity' by emerging director Mariko Minoguchi, premiered at the Munich International Film Festival and nominated at the BFI London Film Festival. "For the first 6 months of being in Berlin I didn't write much of my own music at all," he reflects, "I was experiencing new things and places every day. The slower pace of the city gave me space to absorb a lot."
Berlin's notorious artistic freedom and acceptance, complemented by the creative community Bearcubs has had the opportunity to be part of, has proved particularly transformative for him as an artist. "It has given me a lot of mental and physical space to create new music", he claims with a palpable excited confidence, "it feels like you can be spontaneous and just go with the flow here, individual self expression seems to be more accepted here."
This time helped him to reset and discover his own voice within his music, "every song I write I am trying to get a bit closer to the idea of what is really me." This newfound freedom and perspective culminated with the birth of his second album "Early Hours", a varied and entrancing reflection on his time spent in London in the beginning of his musical career.
"'Early Hours' is a tangled day dream of different experiences, living in London working in a pub whilst trying to write music, transient relationships, friendships fucked up and gained again, boredom, loneliness in the city, the hazy euphoria of partying and being up till the early hours with your friends around you, thoughts of the real world out of mind.'
This battle between the realities of living in a fast-paced, ruthless metropolis and the hunger to express himself as an artist are evident throughout his album, with uplifting and euphoric moments such as 'Everyplace Is Life' and 'Même Langue', bona-fide odes to the freedom in youth, juxtaposed with introspective moments such as 'Screentime' and 'DLT' that offer an acceptance in one's shortcomings and insecurities. Musically the album transitions from slow burning, RnB-infused moments to joyful, club ready tracks, showcasing Bearcubs' ability to move across the spectrum of genres whilst maintaining the intricacies of his early productions. Inevitably varied as is his musical past, be it spending his teenage years in punk and hardcore bands, or playing with a 10-piece hip hop band, 'Early Hours' is a testament to his willingness to defy genres.
Berlin's influence on the project permeated further than just musically, with the album artwork produced by Bearcubs himself incorporating elements of the modern brutalist architecture so representative of the city's image. "I find the contrast between humans occupying these brutalist environments and the cold modernness of the places themselves really interesting."
"I tried to look back to what originally inspired me growing up; my dad playing me a lot of jazz records and bands like Steely Dan, hearing my brother mixing 90s house and old school hiphop vinyls, and the relentless exposure to pop and r'n'b from the radio."
"Early Hours" garnered Bearcubs a slew of newfound support from across the globe, with features in Billboard, Grammy Awards, Dancing Astronaut, Trax Magazine and radio plays on Triple J, BBC Radio 1, 6Music, gathering 20m streams across platforms.
With the realities of the global pandemic hitting close to home, Bearcubs used the solitary time to consider the music he really wanted to create, spending months in the studio working with a close knit collective of friends and artists. What emerged from this period of focused isolation, both creatively and factually, is his third album "Weather Report".
"This album feels like a bit of a fresh start because it shows honestly more of my personality than I've ever given away before, I'm just being myself in the music and the way I sing." Musically, it is a significant departure from his established electronic sound of previous releases, opting instead towards finding "raw, interesting moments". "Weather Report' has a fun and relaxed mood, "something you want to play on a summer's day", with swirling guitars, live drums and heavily inspired by 60s and 70s film and TV music. "All the collaborators, both both musically and visually, are friends and the process was a lot about having fun, hanging out and just jamming."