DREISKULL Productions Presents:
OSTARA - Acts of Spring Fertility
Mandrake - Mayan Warrior
Chuck and Roll
Jerome Simard
Erin Shredder
Sat,
May 21
Doors:

8:00 pm
|
Show:

8:00 pm
Tickets: $50.00 - $100.00
Ages 21 and Up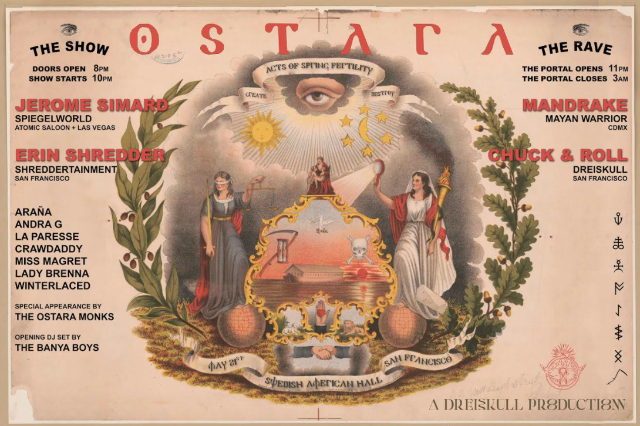 OSTARA - Acts of Spring Fertility
Doors: 8pm
The Show: 10pm
The Rave: 11pm to 3am
21+
OVERWORLD
Performing Artists: Jerome Simard - Spiegelworld, Las Vegas
Erin Shredder - Shreddertainment, San Francisco
Andra G
Araña
Banya Boys (Dj Set)
La Paresse
Crawdaddy
Miss Magret
Lady Brenna
Winterlaced
UNDERWORLD
DJs: MANDRAKE - Mayan Warrior, Mexico City
Chuck and Roll - DREISKULL, San Francisco
Join us in the Overworld where we will tell a tale of Creation and Destruction in OSTARA, Acts of Spring Fertility. Our talented performing artists will cast a spell in the beautiful Freja Hall. Majestic acrobatic acts, songs, dance and witch craft will amuse, awe and titillate. OSTARA brings to life the pagan rites of Spring and the ancient cycle of Life and Death.
Following the Show, we descend into the Underworld (Cafe du Nord) where MANDRAKE of Mayan Warrior, one of the world's most pioneering DJ's, and Chuck and Roll will destroy the dance floor until 3am.
OSTARA, Acts of Spring Fertility fuses live performance art and cutting edge dance music into an evening of story telling and heathen revelry.
--

For any event that is 18 or 21 and over. Any Ticket holder unable to present valid identification indicating that they are of age will not be admitted to this event, and will not be eligible for a refund.

Support acts are subject to change without refund.

--

COVID Warning: An inherent risk of exposure to COVID-19 exists in any place where people gather. You assume all risks, hazards, and dangers arising from or relating in any way to the risk of contracting COVID-19 or any other communicable disease or illness, whether occurring before, during, or after the event, however, caused or contracted, and voluntarily waive all claims and potential claims against the Event Organizers, and their affiliated companies relating to such risks. You expressly agree to comply with all laws and the rules of the Event Organizers when attending the event.​
Artists
Mandrake - Mayan Warrior
Mandrake is part of the Mayan Warrior collective, founder and captain of the legendary M.N. Roy Club in Mexico City. He will take us on a journey with his unique sound, a perfect combination of ominous elegance that portals between deep vibes, maximum joy, and sci-fi pleasures with elements of Indi Dance, Techno, and New Wave.
Chuck and Roll
Chuck has been DJing in San Francisco for decades. An expert selecter, he demolishes dance floors with exquisite house and progressive beats. Always unexpected, always incredible. Chuck redefines the dance floor experience.
Jerome Simard
Jerome is a French Canadian super human. He specializes in aerial straps, acro dance, pole dance and many other feats of human perfection. Jerome is currently performing in Spiegelword's Las Vegas show "Atomic Saloon''. He is joining us for one night and will melt our hearts with his seamlessly technical circus acrobatics and his divine quality of movement.
Erin Shredder
Thriving on adventure, self-discovery, and her own unique style, this hoop artist extraordinaire demonstrates strength, grace, and courage through movement art. Circus has provided her with an outlet to utilize her skill set, ride the thrills of the moment, and express herself in ways that have proven to expand possibilities for all.