Live Nation Presents:
The Lazy Eyes
Mon,
Nov 7
Doors:

6:00 pm
|
Show:

7:00 pm
Tickets: $16.00
All Ages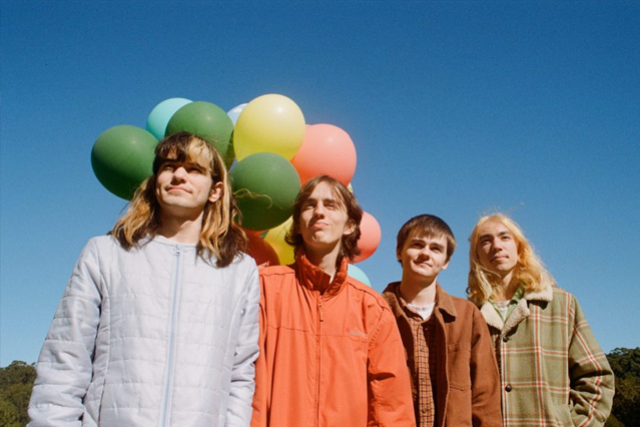 For any event that is listed as 18 or 21 and over, ANY ticket holder unable to present valid identification indicating that they are of age will not be admitted to this event, and will not be eligible for a refund. Any event listed as All Ages, means 6 years of age or older. ALL tickets are standing room only unless otherwise specified. If you need special accomidation, contact info@cafedunord.com.

Support acts are subject to change without refund.

--
Proof of Vaccination: NOT required for entry.
Proof of Negative Test: NOT required for entry.
Masks: Staff and patrons are not required to wear masks though many do. Touring artists often request that patrons in close proximity wear masks. We recomend bringing a mask if you are able. We remain respectful to artists, staff, and patron's comfort level and safety.
--
COVID Warning: An inherent risk of exposure to COVID-19 exists in any place where people gather. You assume all risks, hazards, and dangers arising from or relating in any way to the risk of contracting COVID-19 or any other communicable disease or illness, whether occurring before, during, or after the event, however, caused or contracted, and voluntarily waive all claims and potential claims against the Event Organizers, and their affiliated companies relating to such risks. You expressly agree to comply with all laws and the rules of the Event Organizers when attending the event.​
**The health screening protocols above are subject to change per show at the artist's request. Any show specific changes will be updated via email prior to the show. Thank you for your patience and cooperation.**
Artists
The Lazy Eyes
SongBook, the debut album by Sydney four-piece The Lazy Eyes, is a world unto itself, and like every good fantasy world, it abides by its own logic. Step inside: the colours are a little brighter; things move a little slower, but they're liable to get inordinately faster in the blink of an eye. The landscape is all hard brick and plasterdust — stoner lurch and Sabbath-y chug — until a hook bursts forth, unexpected, like a flower from concrete. Suddenly you're in a garden in full blossom, and you didn't even notice; you walked a mile without taking a single step. SongBook is strange like that — all journey and all destination, a decidedly modern marvel of psych-rock that's unpretentious in construction but precious where it counts. In SongBook's earliest moments, The Lazy Eyes welcome you to their technicolour, sun-baked universe with open arms: "Can I show you all the places you can go, on this island that I know? All the caves and all
the snow, on the mountains there are goats."
The floral brightness of The Lazy Eyes' music belies their perfectly mundane origins. Harvey Geraghty, Itay Shachar and Noah Martin met in their early years at Sydney's Newtown High School of the Performing Arts. Bonding over a love of psych rock, they banded together as a matter of both taste and necessity, three of the only rhythm section musicians in a school filled largely with string, brass and woodwind musicians. They became fast friends, started jamming together, and, eventually, began to busk around Sydney, their burgeoning band (and friendship) being bound together by long hours playing and carting their instruments around the city. Around 2015, as they began playing real gigs, The Lazy Eyes decided to formalise the band as a unit, a decision that coincided neatly with their meeting of Leon Karagic, who provided much-needed bass to their ensemble and, with his knowledge of niche and underground music, broadened the band's stylistic and ideological palette. "The biggest thing was that we were close friends first, and then the bonus on top of that was that we had the same taste in music, and felt really not weird or awkward about making music together," recalls Itay. "We didn't feel like we had to act a certain way around each other," says Noah, "We could just be ourselves, and—" adds Harvey: "Freaky."
The intimacy of The Lazy Eyes' friendship is felt, deeply, in their music, particularly in their renowned live sets. In the years since they formed, The Lazy Eyes have become emblematic torchbearers for the Australian psych-rock scene, accepting the baton from the iconic bands that first inspired their formation. Off the back of their first two EPs, released in 2020 and 2021, The Lazy Eyes have sold out numerous shows along Australia's east coast, including their own music festival, Lazyfest; garnered praise from tastemaking outlets at home and abroad, including Complex, KCRW, FBi Radio, triple j Unearthed, BBC 6 Music and Radio 1, and Spin; been named an NME 100 band for 2021; and more. The band's reputation continues to grow, despite the fact that planned international jaunts at SXSW and The Great Escape were cancelled in light of the Covid-19 pandemic, a disappointing false start that nonetheless proves the strength of the band's self-recorded EPs.
SongBook is evidence of an edifice slowly being formed, a trepidatious first footstep by the band into the wider world. Combining the piquant feel of classic 60s psych with sharp Gen Z wit, it's a "clearing out of the closet", as Itay says — a collection of all the best songs The Lazy Eyes wrote over their first five years together that points towards where the band will go next. Featuring songs that Itay and Harvey recorded alone as well as the band's first tracks recorded together, SongBook touches on lovelorn daytime pop ("Starting Over"), squally jams ("Where's My Brain"), sighing balladry ("Cheesy Love Song") and so, so much more. "Fuzz Jam", the latest taste from SongBook, sees the band at the height of their powers, deftly slipping from one mode to another in seconds. Magnanimous and effusive, it's a vivid insight into the world of four of Australia's most talented musicians. Step inside, but be warned: Once you're in The Lazy Eyes' world, you might not want to leave any time soon.