Live Nation Presents:
Why Bonnie, and Sun June
Sat,
Jan 21
Doors:

8:00 pm
|
Show:

9:00 pm
Tickets: $20.00
All Ages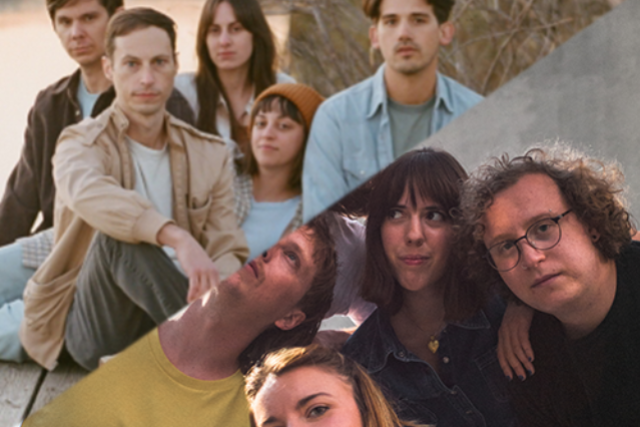 For any event that is listed as 18 or 21 and over, ANY ticket holder unable to present valid identification indicating that they are of age will not be admitted to this event, and will not be eligible for a refund. Any event listed as All Ages, means 6 years of age or older. ALL tickets are standing room only unless otherwise specified. If you need special accomidation, contact info@cafedunord.com.

Support acts are subject to change without refund.

--
Proof of Vaccination: NOT required for entry.
Proof of Negative Test: NOT required for entry.
Masks: Staff and patrons are not required to wear masks though many do. Touring artists often request that patrons in close proximity wear masks. We recomend bringing a mask if you are able. We remain respectful to artists, staff, and patron's comfort level and safety.
--
COVID Warning: An inherent risk of exposure to COVID-19 exists in any place where people gather. You assume all risks, hazards, and dangers arising from or relating in any way to the risk of contracting COVID-19 or any other communicable disease or illness, whether occurring before, during, or after the event, however, caused or contracted, and voluntarily waive all claims and potential claims against the Event Organizers, and their affiliated companies relating to such risks. You expressly agree to comply with all laws and the rules of the Event Organizers when attending the event.​
**The health screening protocols above are subject to change per show at the artist's request. Any show specific changes will be updated via email prior to the show. Thank you for your patience and cooperation.**
Artists
Why Bonnie
90 in November, the first full-length LP from Texas quintet Why Bonnie, crashes into existence with a squeal of feedback and a burst of distorted guitar. It's a dynamic introduction to a more raw-edged indie sound from a band who have matured from bedroom dream pop into a sophisticated rock act, their evolving sound a reflection of the journey undertaken by songwriter Blair Howerton on this vividly rendered collection of songs.
As much a product of songwriter Howerton's love for the intimate songwriting of fellow Texans Townes Van Zandt and Blaze Foley as it is her affection for the alt-rock of the Lemonheads and the Replacements, the eccentric pop of Sparklehorse, and "definitely Sheryl Crow," 90 in November is a meditation on the pains and pleasures of nostalgia and a lesson in learning how to look back at the people, places, and experiences that have shaped us, with room for both unvarnished honesty and rose-tinted melancholy. 90 in November is about "coming to terms with your past to accept all of the sweet and all of the bitter," says Howerton.
The songs for 90 in November were mostly written in Brooklyn, New York, where Howerton moved from Austin in 2019. Already in the midst of a major life change, Howerton's feeling of being between worlds was compounded when quarantine hit and she found herself, like so many others, stuck in her apartment—about as far away from the wide-open spaces of Texas as one can possibly get. It was in this environment that she began to write songs parsing out the complicated, mixed emotions associated with building a new home while attempting to make sense of the one she had left behind.
As a result, 90 in November is a trip through Howerton's inner world, but it's also a road trip through Texas. Often it is both at once. The songs are full of poetic, cinematic lyrics that flash like colorful scenes glimpsed from the window of a car as it barrels along an interstate highway cutting through the Lone Star State, each one a road stop revealing a different facet of Howerton's experience.
The title track is a sunny guitar pop song about her hometown of Houston, packed full of sparkling snapshots—"a technicolor sun" and "a cardboard cutout cowboy waving me goodbye"—that matches the music's shimmering optimism. The hazy "Hot Car" is the flipside, with a hypnotic synth line mimicking the way a mental loop of dormant thoughts that surface in the warm cocoon of a car speeding towards its destination in the dead of night. On "Nowhere LA"—that's LA as in Louisiana, by the way—Howerton uses a broken down car on an isolated road as a metaphor for a stalled relationship: "I know I walk fast, but my heart moves so slow," she sings. Elsewhere, Howerton is more literal in her recountings. On the wistful and Sheryl Crow-like "Galveston," built around a chiming guitar line, Howerton recalls childhood trips to the island city of Galveston, singing evocatively of "candyland beaches" and "the East Texas sunrise making a face."
90 in November's deep sense of place isn't accidental. The band—Howerton, keyboardist Kendall Powell, guitarist Sam Houdek, bassist Chance Williams, and drummer Josh Malett—considered making the record in New York or California, but ultimately decided that it had to be done in Texas. In early 2020, Why Bonnie headed down to the town of Silsbee (population: 6,634) to spend two weeks recording with Tommy Read (Lomelda, alexalone) at Lazybones Audio. Howerton describes it as an idyllic period of time where days were spent walking around with cows and evenings drinking Lone Star beer and looking at the stars. The stillness begat an emotional catharsis that is symbolized mid-record with "Silsbee", a song where Howerton finally allows herself to fully inhabit the present moment while acknowledging her past. She describes it as an ode to her brother, who passed away in 2016. "I wrote those lyrics while we were recording," remembers Howerton. "I had a quiet moment out in this beautiful pasture where I was able to think about him and how our connection is still very present even though he's not physically here."
Even when handled with as much grace as it is on 90 in November, nostalgia remains tricky to navigate, something Howerton addresses on the exuberant "Lot's Wife." The song is inspired by a story from the Old Testament of a woman who looked back at her city while fleeing and was turned to a pillar of salt. "I really liked that story and how it relates to the experience of nostalgia, how if you stare for too long, you're gonna turn into something else and crumble," says Howerton. With 90 in November, Howerton has achieved the opposite. By looking back on her past with fearlessness and compassion, she propels her songwriting forward into new realms of emotional sincerity and her band to new heights of sonic adventurousness. Yet no matter where the group goes from here, one thing will remain the same. "We're a Texas band," says Howerton. "We always will be."
Sun June
The five members of Sun June spent their early years spread out across the United States, from the boonies of the Hudson Valley to the sprawling outskirts of LA. Having spent their college years within the gloomy, cold winters of the North East, Laura Colwell and Stephen Salisbury found themselves in the vibrant melting-pot of inspiration that is Austin, Texas. Meeting each other while working on Terrence Malick's 'Song to Song', the pair were immediately taken by the city's bustling small clubs and honky-tonk scene, and the fact that there was always an instrument within reach, always someone to play alongside.
Coming alive in this newly discovered landscape, Colwell and Salisbury formed Sun June alongside Michael Bain on lead guitar, Sarah Schultz on drums, and Justin Harris on bass and recorded their debut album live to tape, releasing it via the city's esteemed Keeled Scales label in 2018. The band coined the term 'regret pop' to describe the music they made on the 'Years' LP. Though somewhat tongue in cheek, it made perfect sense ~ the gentle sway of their country leaning pop songs seeped in melancholy, as if each subtle turn of phrase was always grasping for something just out of reach.
Sun June returns with 'Somewhere', a brand new album, out February 2021. It's a record that feels distinctly more present than its predecessor. In the time since, Colwell and Salisbury have become a couple, and it's had a profound effect on their work; if Years was about how loss evolves, Somewhere is about how love evolves. "We explore a lot of the same themes across it," Colwell says, "but I think there's a lot more love here."
Somewhere is Sun June at their most decadent, a richly diverse album which sees them exploring bright new corners with full hearts and wide eyes. Embracing a more pop-oriented sound the album consists of eleven beautiful new songs and is deliberately more collaborative and fully arranged: Laura played guitar for the first time; band members swapped instruments, and producer Danny Reisch helped flesh out layers of synth and percussion that provides a sweeping undercurrent to the whole thing.
Throughout Somewhere you can hear Sun June blossom into a living-and-breathing five-piece, the album formed from an exploratory track building process which results in a more formidable version of the band we once knew. 'Real Thing' is most indicative of this, a fully collaborative effort which encompasses all of the nuances that come to define the album. "Are you the real thing?" Laura Colwell questions in the song's repeated refrain. "Honey I'm the real thing," she answers back.
They've called this one their 'prom' record; a sincere, alive-in-the-moment snapshot of the heady rush of love. "The prom idea started as a mood for us to arrange and shape the music to, which we hadn't done before," the band explains. " Prom isn't all rosy and perfect. The songs show you the crying in the bathroom,, the fear of dancing, the joy of a kiss - all the highs and all the lows."
It's in both those highs and lows where Somewhere comes alive. Laura Colwell's voice is mesmerising throughout, and while the record is a document of falling in love, there's still room for her to wilt and linger, the vibrancy of the production creating beautiful contrasts for her voice to pull us through. Opening track 'Bad With Time' sets this tone from the outset, both dark and mysterious, sad and sultry as it fascinatingly unrolls. "I didn't mean what I said," Colwell sings. "But I wanted you to think I did."
Somewhere showcases a gentle but eminently pronounced maturation of Sun June's sound, a second record full of quiet revelation, eleven songs that bristle with love and longing. It finds a band at the height of their collective potency, a marked stride forward from the band that created that debut record, but also one that once again is able to transport the listener into a fascinating new landscape, one that lies somewhere between the town and the city, between the head and the heart; neither here nor there, but certainly somewhere.
Sour Widows
Bay Area trio Sour Widows already drew as equally on sharpness as they did tenderness, but the deliberately spare atmosphere of their 'Crossing Over' EP enhances both, with the band discovering a new intensity by turning inward. Described by Pitchfork as "wielding raw vulnerability like a superpower", the EP was self-recorded remotely while plans for getting into a studio were put on indefinite hold. Its four songs dial back some of the volume that drove their self-titled 2020 debut, making space for themes of self-reflection and painful change that cut through with sharpened clarity. Tempos slow and the instrumentation softens, but anxiety and grief crackle in even the most deceptively delicate moments. The luminous vocal harmonies, complex guitar interplay, and understated drumming that have been at the core of the band's sound remain foundational, but these four softly lit songs reach deeper, all the more stirring in their subtlety. 'Crossing Over' represents a new phase of Sour Widows' artistry, and points to even further growth with their soon-to-follow full length debut.

In addition to finalizing material for the upcoming album, Sour Widows kept busy in 2022 with debuts at SXSW and Treefort, and tours with Duster, SPELLING, Pile and Babehoven across the west coast. The band also released singles "Witness" and "I-90" to critical acclaim, garnering support from Pitchfork, NPR, Stereogum, and more.