Live Nation Presents:
Buffalo Daughter
Wed,
Jun 7
Doors:

7:00 pm
|
Show:

8:00 pm
Tickets: $22.00
Ages 21 and Up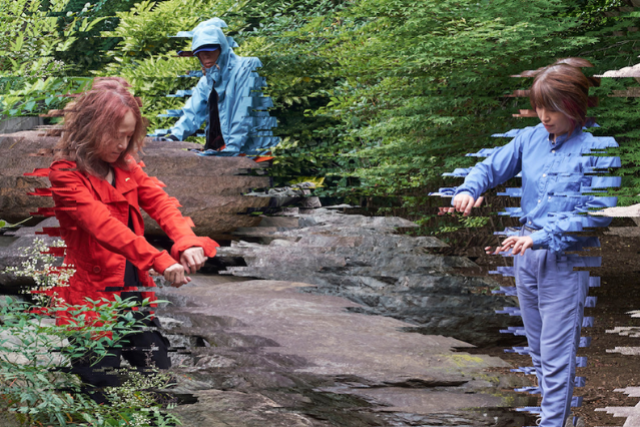 For any event that is listed as 18 or 21 and over, ANY ticket holder unable to present valid identification indicating that they are of age will not be admitted to this event, and will not be eligible for a refund. Any event listed as All Ages, means 6 years of age or older. ALL tickets are standing room only unless otherwise specified. If you need special accomidation, contact info@cafedunord.com.

Support acts are subject to change without refund.

--
Proof of Vaccination: NOT required for entry.
Proof of Negative Test: NOT required for entry.
Masks: Staff and patrons are not required to wear masks though many do. Touring artists often request that patrons in close proximity wear masks. We recomend bringing a mask if you are able. We remain respectful to artists, staff, and patron's comfort level and safety.
--
COVID Warning: An inherent risk of exposure to COVID-19 exists in any place where people gather. You assume all risks, hazards, and dangers arising from or relating in any way to the risk of contracting COVID-19 or any other communicable disease or illness, whether occurring before, during, or after the event, however, caused or contracted, and voluntarily waive all claims and potential claims against the Event Organizers, and their affiliated companies relating to such risks. You expressly agree to comply with all laws and the rules of the Event Organizers when attending the event.​
**The health screening protocols above are subject to change per show at the artist's request. Any show specific changes will be updated via email prior to the show. Thank you for your patience and cooperation.**
Artists
Buffalo Daughter
Buffalo Daughter is a three member group consisting of SuGar Yoshinaga, Yumiko Ohno and MoOoG Yamamoto, often augmented by a drummer and other guests. Their sound is heavily influenced by German progressive rock and techno pop, but also includes bits of dub, club, shoegaze and post-rock influences. Given their mix and match style, and that they emerged in the mid-90s, they are often considered as part of the Shibuya-kei movement.

Before putting together Buffalo Daughter, Yoshinaga and Ohno played together in a band called Havanna Exotica. Buffalo Daughter's 1994 debut EP Shaggy Head Dressers was released on the Cardinal label, a spin-off of the popular indies magazine Beikoku Ongaku.

When the American group Luscious Jackson were touring in Japan they met Buffalo Daughter, and favorably impressed with their music, passed samples along to the their label honchos at the Beastie Boys own Grand Royal Records. As a result Buffalo Daughter signed with Grand Royal in 1996, and released Captain Vapour Athletes internationally.

The band spend a good deal of 1996 in the States, first playing a few East Coast dates in March, then doing an extended tour with Butter 08 in September, and returning again for dates in November with Luscious Jackson. Their impressive live shows had a great deal to do with breaking the band both in Japan and internationally.

In 1997 Grand Royal followed with a remix EP, with Buffalo Daughters remixed by the likes of Alec Empire, Money Mark and U.N.K.L.E. Also in 1997 Buffalo Daughter played Grand Royal events in London and Paris with labelmates Ben Lee, BIS and Luscious Jackson.

In 1998 the band returned with the new studio album "New Rock", and toured the US and Europe with Money Mark. They also performed at the Tibetan Freedom Festival in Washington DC in June 1998 along with the Beastie Boys, Radiohead, REM, Sonic Youth and Herbie Hancock. They returned again to the States in July and August to tour with Boys Against Girls. In 2001 Grand Royal suddenly shut down, and the band moved to LA based Emperor Norton, where they released "I". Also in 2001 Buffalo Daughter played Japan's top electronic music event Electraglide, on a bill with Fatboy Slim, Aphex Twin and Plaid.

In 2003 they released "Psychic" on V2 Records, and toured America with Blonde Redhead, and in 2006 released "Euphorica". This versatile group has collaborated with a wide range of artists including the French ambient pop group Air, former member of techno-pop pioneers The Plastics, idol Ami Suzuki, veteran Mari Natsuki, Takako Minaka, Cornelius, Naoko Yamano of Shonen Knife and Cibo Matto. Sugar also sometimes plays in the side project band Metalchicks, and has toured the States and Europe with them.

They have also had their music used in ads for Listerine, Minute Maid, Minolta, Panasonic and 7-11's Slurpies amongst others. In 2007 they played the Formosa Festival, their first live show in Taiwan.

In July 2010 Buffalo Daughter released "The Weapons of Math Destruction", on their own Buffalo Ranch label, their first release in four years. They again collaborated with support drummer Atsushi Matsushita, who also plays with Zazen Boys, and with who played at Fuji Rock 2010 and did a national tour in November.

In 2013, Buffalo Daughter released their 20th anniversary best album "ReDiscoVer. Best, Re-recordings and Remixes of Buffallo Daughter". This album not only includes their past songs but also a mix of some new recordings, covers, concert performances and remixed recordings. Recently at a Tokyo and Osaka gallery, an exhibit was created, which follows the band's history.

In 2014 double album "Konjac-tion" is released worldwide (physical release through U/M/A/A in Japan and Modulor in France/EU). The album features various guests such as Kahimi Karie, Shintaro Sakamoto (ex. Yura Yura Teikoku) and remixes by Cibo Matto, Sean Lennon, Varo, Yoshinori Sunahara, etc., with nearly two hours listening volume. The world tour is followed soon to all through 2015, including some major and small rock festivals/ showcases – SXSW (USA), The Great Escape (UK), Micro Festival (Belgium), Off Festival (Poland), V-Rox (Russia), Fuji Rock Festival (Japan), Big Mountain Music Festival (Thailand), Lobo Jam (Taiwan) etc.

While keeping themselves busy with the tour life, Buffalo Daughter also finds it interesting to collaborate with the visual artist such as graphic artists and painters. The band has the history of having close relationships with the artists and that gave them some opportunities to perform at the gallery and museum in the past. Most recent one is January in 2016 at the illustrator Ed Tsuwaki's exhibition at Museum of Contemporary Art Tokyo. Tsuwaki's live-painting features the band's improvisational performance with the avand-garde cellist Hiromichi Sakamoto. It was their second museum performance next to the British artist Peter McDonald's Exhibition in 2012 at 21st Century Museum of Contemporary Art, Kanazawa.

Buffalo Daughter's latest album We Are The Times, their first new album in seven years, came out September 17th, 2021.