Live Nation Presents:
Crocodiles
Sun,
Apr 23
Doors:

7:00 pm
|
Show:

8:00 pm
Tickets: $24.00
Ages 21 and Up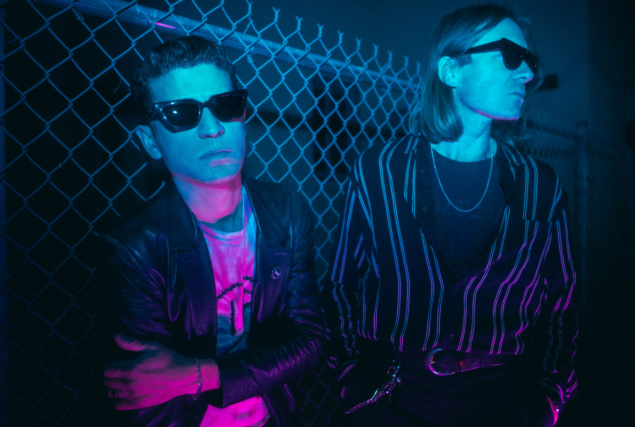 For any event that is listed as 18 or 21 and over, ANY ticket holder unable to present valid identification indicating that they are of age will not be admitted to this event, and will not be eligible for a refund. Any event listed as All Ages, means 6 years of age or older. ALL tickets are standing room only unless otherwise specified. If you need special accomidation, contact info@cafedunord.com.

Support acts are subject to change without refund.

--
Proof of Vaccination: NOT required for entry.
Proof of Negative Test: NOT required for entry.
Masks: Staff and patrons are not required to wear masks though many do. Touring artists often request that patrons in close proximity wear masks. We recomend bringing a mask if you are able. We remain respectful to artists, staff, and patron's comfort level and safety.
--
COVID Warning: An inherent risk of exposure to COVID-19 exists in any place where people gather. You assume all risks, hazards, and dangers arising from or relating in any way to the risk of contracting COVID-19 or any other communicable disease or illness, whether occurring before, during, or after the event, however, caused or contracted, and voluntarily waive all claims and potential claims against the Event Organizers, and their affiliated companies relating to such risks. You expressly agree to comply with all laws and the rules of the Event Organizers when attending the event.​
**The health screening protocols above are subject to change per show at the artist's request. Any show specific changes will be updated via email prior to the show. Thank you for your patience and cooperation.**
Artists
Crocodiles
"I first met the duo of Brandon Welchez and Charles Rowell nearly 25 years ago at a punk gig being held in a Mexican restaurant in San Diego. After initially becoming acquainted at a local Anti-Racist Action meeting, the two found their respective teenage bands booked on the same bill and I found myself in a booth, inhaling a burrito, observing the germination of their fruitful partnership. Young Brandon watched in awe as teenage Charlie clambered up a confused family's table and proceeded to bash the living hell out of his cheap guitar. When his set was through, young Charlie melted back into the crowd and also found himself awe-struck as the pubescent Brandon took the 'stage' (floor) and proceeded to shriek, croon, howl and spit his way through his own band's allotted 20 minutes. Once the noise was over, the two found each other, expressed their mutual admiration and over a shared Coca-Cola agreed to dissolve their respective bands and join forces.

After a few false starts, the duo found their footing with now near-mythical noise-punk group The Plot To Blow Up The Eiffel Tower. They spent the next 5 years traversing the USA, playing every backwoods dump that would have them, meeting and inspiring other like minded freaks and occasionally getting the shit kicked out of them by feral rednecks. Eventually the Plot imploded in a cloud of poverty and addiction. Once the dust settled, Charlie and Brandon agreed to keep this partnership of theirs going. After a few years spent experimenting with their song writing ('Why can't you mix 60s pop with Deathrock?,' they once asked me) and trying out various line-ups and names, they decided to trim the fat. They booted out the half-committed jokers they were working with, trading them in for a beat up old drum machine. Immediately, they set to work on the group of songs which would become Crocodiles debut album; the spaced-out, gritty noise-pop classic Summer Of Hate.

Fast forward 15 years and we find ourselves in the dystopian future of 2023. The previous decade and half has seen the core duo change line-ups (2-piece, 5-piece, 2-piece again, 4-piece), location (San Diego, NYC, Paris, Mexico City, London, LA), sounds (art-punk, psychedelic haze, lush 60s-inspired pop, trashed-out glam) and hairstyles (good, bad, ugly). They have dropped 7 LPs, several EPs and singles and toured incessantly, bringing their unique brand of rock-n-roll to hungry fans in every corner of the globe. While the lineups, locations and sounds have changed, Brandon and Charlie have never wavered from their initial teenage mission to help each other escape a life of drudgery, boredom and expectation through music, art, friendship and adventure. They have persevered through the highs and the lows, always together, always creating. It hasn't always been easy, but it's always been interesting. Now, after the pandemic-induced slowdown, the boys have returned with their 8th album, Upside Down In Heaven, out April 7 on Lolipop Records."
- Russell Cash, San Diego, Jan 9, 2023