Live Nation Presents:
Kiltro with Jamie Drake
Wed,
Aug 9
Doors:

7:00 pm
|
Show:

8:00 pm
Tickets: $20.00
Ages 21 and Up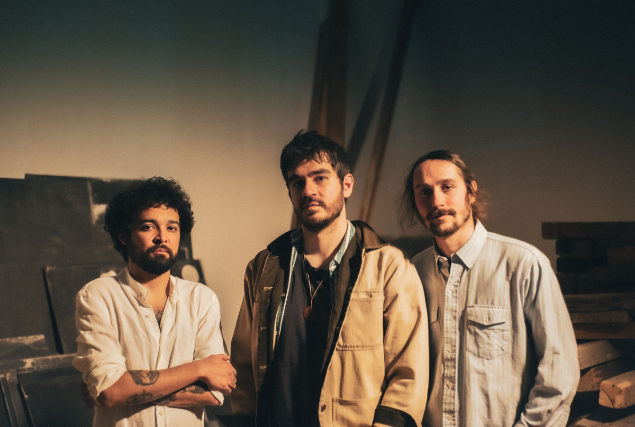 For any event that is listed as 18 or 21 and over, ANY ticket holder unable to present valid identification indicating that they are of age will not be admitted to this event, and will not be eligible for a refund. Any event listed as All Ages, means 6 years of age or older. ALL tickets are standing room only unless otherwise specified. If you need special accomidation, contact info@cafedunord.com.

Support acts are subject to change without refund.

--
Proof of Vaccination: NOT required for entry.
Proof of Negative Test: NOT required for entry.
Masks: Staff and patrons are not required to wear masks though many do. Touring artists often request that patrons in close proximity wear masks. We recomend bringing a mask if you are able. We remain respectful to artists, staff, and patron's comfort level and safety.
--
COVID Warning: An inherent risk of exposure to COVID-19 exists in any place where people gather. You assume all risks, hazards, and dangers arising from or relating in any way to the risk of contracting COVID-19 or any other communicable disease or illness, whether occurring before, during, or after the event, however, caused or contracted, and voluntarily waive all claims and potential claims against the Event Organizers, and their affiliated companies relating to such risks. You expressly agree to comply with all laws and the rules of the Event Organizers when attending the event.​
**The health screening protocols above are subject to change per show at the artist's request. Any show specific changes will be updated via email prior to the show. Thank you for your patience and cooperation.**
Artists
Kiltro
Years ago, Chilean-American singer/songwriter Chris Bowers Castillo moved to the port city of Valparaíso and became a walking tour guide.

"I would dress up as Wally and give tours to families and kids," he remembers with a laugh. "It was great, because I got to know the city incredibly well. I'd walk for hours, then spend the rest of the day partying and drinking, probably way too much. But I also wrote lots of new songs."

Back in Denver, Chris looked for a moniker that reflected the evocative and subtly rebellious musical concepts percolating in his head, and settled on kiltro - a word used in Chile for stray dogs or mutts. He then teamed up with bassist Will Parkhill and drummer Michael Devincenzi, later inviting Fez García to join the band as an additional percussionist on Kiltro's live gigs.

"I wanted to do a project mixing different styles and aesthetics," he says. "Valparaíso is my favorite city in the world and will always influence my music. There were street dogs everywhere, and I'm a mutt myself."

Titled Underbelly, Kiltro's sophomore album crystallizes those dreams and experiences into a post-rock manifesto of dazzling beauty. Its songs combine touches of shoegaze, ambient and neo-psychedelia with the soulful transcendence of South American folk – the purity of stringed instruments, supple syncopated percussion and elusive melodies that define the works of Latin American legends such as Violeta Parra, Víctor Jara and Atahualpa Yupanqui.

From the propulsive, chant-like groove of "Guanaco" to the art-pop panache of "All the Time in the World," Underbelly is the kind of record that invites you to quiet down and listen, savoring every single detail. The album reaches an emotional pinnacle during its second half, when the majestic lament of "Softy" – seeped in exquisite cushions of reverb – segues into the hypnotic reverie of "Kerosene."

It also signals a new chapter in the fusion of Latin roots with mainstream rock, anchoring its sonic quest on a rare commodity: inspired songwriting.

"So much of this album is defined by the conditions that made it," says Chris. "Our debut – 2019's Creatures of Habit – has a social, almost communal feel to it, because we played it live time after time before recording. In a way, the songs were troubleshooted in the presence of an audience, then honed in the studio. Underbelly, on the other hand, was made in quarantine. It was just us obsessing in the studio, and we ended up following whatever thread seemed most interesting at the time, which made for an album that is more experimental and creative."

"We're trying to make sense of the process as we experience it," adds Will, who returned to Denver and became part of Kiltro after a few years living abroad. "The way we make music, we're definitely not interested in dropping singles. Something that Chris and I have in common is our interest in capturing ambient textures that evoke a sense of place. When we first played music together – years before Kiltro – we got microphones and tried to record the sound of water running down a bathtub. It didn't work out then, but we revisited the same concept on this album."

Quarantine isolation allowed Kiltro to obsess over every single loop and melodic turn. Now that the band is ready to tour again, presenting the songs in a live setting poses a beautiful challenge.

"We were mixing the album when the question came up: how the hell are we going to do this live?," says Chris. "Live shows are a real important component of what we do – in a way, it's the very reason of why we make music. There will be four of us onstage, and I do a lot of live looping. We have two drummers, which helps a lot when you consider the percussive element of this album. I've learned that we don't have to favor a maximalist approach. People connect with melody and the concept. As long as the harmonic elements carry the emotional message across, you can take the songs into many possible directions."

For now, the release of Underbelly marks a bold step forward in Kiltro's extraordinary musical journey.

"When we first started the band, I was playing folk songs – focusing on my interior spaces and finding catharsis through melody," says Chris. "I've always been attracted to music that is melancholy and personal. Then we added the rhythmic component, and I realized that having a bit of noise and chaos can add emotional depth. Underbelly reflects everything that happens inside your soul when the world stops on its tracks."

"We tried a lot of new things on this record," agrees Will. "We were living through unprecedented times and coming to terms with all of it. The album is a reflection of that. At the end of the day, we wanted to create the kind of music that we didn't hear anywhere else."

Jamie Drake
One of LA's best-kept musical songwriting secrets for over a decade -- collaborating with the likes of Sondre Lerche, Jim James, Moby, Sarah and Sean Watkins (Nickel Creek), and Mikael Jorgensen (Wilco) -- Jamie Drake has all the while been carefully honing her own craft and preparing to take center stage.

In September 2019, Jamie Released her breakout album, Everything's Fine, on AntiFragile Music, a record peppered with indie-folk-pop stylings wrapped in lush orchestrations.

Singles such as "Everything's Fine,"Wonder," and "Redwood Tree" surpassed over 15M streams on Spotify and brought in critical acclaim from NPR Music, Talkhouse, Flood, BGS, and Atwood Magazine, plus a flurry of famous fans (like Ed Helms, Rob Thomas of Matchbox 20), and Sarah Watkins (I'm With Her / Nickel Creek) heaping public praise. The album was even featured on Wilco's "Favorite Albums of 2019" List.

2019 continued to be a year of high notes, with tours and appearances supporting J.S Ondara, The Watkins Family Hour, Devotchka, Sondre Lerche, and Shawn Colvin, plus a sold out Los Angeles residency.

Drake maintained the cover of Spotify's "Modern Eclectic" playlist for a year and a half — winning her the attention of new fans across the globe in a time when playing live had ended for the foreseeable future.

This June 2022, Drake's love for early 1970s Laurel Canyon folk unexpectedly meets Rio de Janeiro in "New Girl," once again displaying her ability to evolve as a dynamic artist in her time. "New Girl" is a raw and emotionally brave follow up to her last release, with 11 songs primarily recorded in single vocal takes; keeping her best performances along with raw, minor imperfections.

"New Girl's" bossa influence came as a welcomed surprise and was inspired by the incomparable Getz / Gilberto "76" album, which Jamie discovered for the first time in 2020 while living in upper Ojai, California. "I listened to it every day while riding my bike around Meiners Oaks with my dog Moxie and a red JBL speaker in the basket. I got to know those songs really well, even though I don't speak Portuguese. I knew they had gotten into my marrow when I met and wrote 'It's A New Life' with Rich Jacques that following May. I knew immediately that I would make my next album with him because the feeling of this new song was the world I wanted to live in musically."

By fall 2021 Rich Jacques came to California to produce the album with Jamie and Austin Myles Grant, fellow LA artist / multi-instrumentalist who ended up playing most of the instruments on the record. The trio was invited to record at a private residence set in the Santa Monica mountains, seeped in the purity and quiet of nature, where they could fully unfurl and connect musically. This purity and connection can be felt in the recordings. Drake bravely asks one of the most human questions in "Is There Something Wrong with Me?" And contemplates that "..Life feels undeserving when the whole world is hurting.. And then John Prine dies.. Am I just a lie.. if I haven't had to cry?" Jamie synthesizes the guilt many felt across the globe in early 2020 with clarity while still maintaining hope and purpose in "When John Prine Died." These heartfelt tracks are magnificently balanced by other offerings like the comically recorded Bossa- influenced, "New Girl," which depicts Jamie's gypsy-like childhood and not-so-great life lessons with a twinkle in her eye. And then there's "Sing," a song that can lift the heart of the listener into a fantasia of imagination and wonder not unlike Julie Andrews in "The Sound of Music." It's this childlike awe Drake maintains that draws even the youngest of fans to her. Hits like "Easy Target," remind us of Carol King in "It's Too Late," and feel as if it was recorded around the same time. The album becomes hypnotic with "It's A New Life," which takes us to a world where Drake's vocals feel like a cross between Astrud Gilberto and Sade. "Lifted by Love" and "It's A Wonderful Life" bring the listener to their heart center where anything is possible and the world is still filled with hope and wonder.. all melded together by Jamie's mesmerizing and unique vocal melodies and songwriting; bringing a fresh perspective on Folk and Bossa Nova that is uniquely her own.