Live Nation Presents:
Seahaven
Thu,
Jun 22
Doors:

7:00 pm
|
Show:

8:00 pm
Tickets: $20.00
All Ages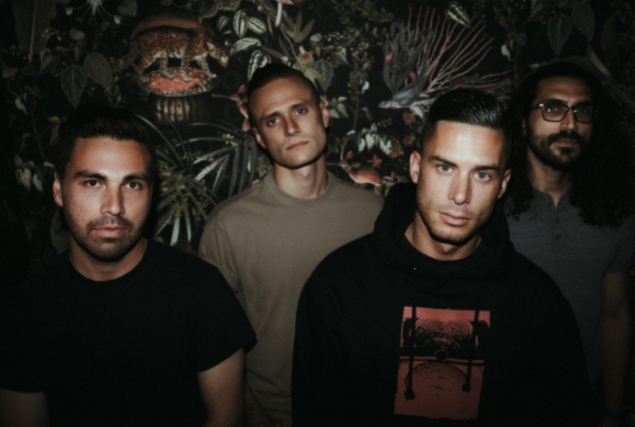 For any event that is listed as 18 or 21 and over, ANY ticket holder unable to present valid identification indicating that they are of age will not be admitted to this event, and will not be eligible for a refund. Any event listed as All Ages, means 6 years of age or older. ALL tickets are standing room only unless otherwise specified. If you need special accomidation, contact info@cafedunord.com.

Support acts are subject to change without refund.

--
Proof of Vaccination: NOT required for entry.
Proof of Negative Test: NOT required for entry.
Masks: Staff and patrons are not required to wear masks though many do. Touring artists often request that patrons in close proximity wear masks. We recomend bringing a mask if you are able. We remain respectful to artists, staff, and patron's comfort level and safety.
--
COVID Warning: An inherent risk of exposure to COVID-19 exists in any place where people gather. You assume all risks, hazards, and dangers arising from or relating in any way to the risk of contracting COVID-19 or any other communicable disease or illness, whether occurring before, during, or after the event, however, caused or contracted, and voluntarily waive all claims and potential claims against the Event Organizers, and their affiliated companies relating to such risks. You expressly agree to comply with all laws and the rules of the Event Organizers when attending the event.​
**The health screening protocols above are subject to change per show at the artist's request. Any show specific changes will be updated via email prior to the show. Thank you for your patience and cooperation.**
Artists
Seahaven
There was a time when it looked like Seahaven might never make music again.
The sonic leap from 2011's cathartic, gritty debut LP Winter Forever to 2014's Reverie Lagoon: Music For Escapism Only — a wondrous sequence of nocturnal, fireside soundscapes — turned heads through the underground. But it left Torrance, California's foremost musical shape-shifters with an almost impossible act to follow. Shows became sporadic. Heading into 2020, it had been over half a decade since the quartet released its previous album. Fans feared it was all over. For Seahaven themselves, it sometimes felt that way, too.
"I don't even know if I picked up a guitar for two and a half years," admits frontperson Kyle Soto. Chat with the members of Seahaven — Soto, guitarist Cody Christian, bassist Mike DeBartolo, and drummer Eric Findlay — and they'll refer to this as their "dark period," a time in which they scrapped an album's worth of demos, adjourned an ongoing label search, and resigned to the possibility of Reverie Lagoon riding off into the sunset as their unintended swan song. "We didn't know what direction we wanted to go in. We did a summer tour in 2016 and when it was over, we thought that was the end."
Enter Halo of Hurt — Seahaven's first album in six years and a riveting new chapter in their ongoing evolution. Astral and eerie, moonlit and menacing, Halo of Hurt reignites the magic dust that made Seahaven's early 2010s run so special. It's an adventurous rock album that urges you to grapple with your self doubt and innermost demons, then cast them into oblivion. "In Halo of Hurt, there's some underlying anxiety from coming up short after 2014," Soto admits. "I wanted to bring it back to the beginning of the band — a revived version of our younger selves in my garage in 2009. No timelines, no pressure. No need to fit a certain mold."
In late 2018, an invitation to open the 10-year anniversary tour of their pals Man Overboard pulled Seahaven out of hibernation."I was really feeling the nerves because it had been so long since we were out onstage in front of people," Soto says. "I remember sitting with Cody in the green room and kind of tripping out. Then you hit the first chord and all of a sudden you're back in your element."
The Man Overboard run inspired Seahaven to book their own headlining shows, a pair of successful L.A. gigs packed with familiar fans to close out the year. Then, while out catching their friends Balance and Composure's farewell tour in Pomona, a chance conversation revealed Pure Noise Records founder (and longtime Seahaven fan) Jake Round was interested in releasing a future project. "He gave us complete freedom to do whatever we wanted," Soto says. "That's pretty much all we needed."
The final checkpoint was returning to Costa Rica — the site of that empty-handed 2016 recording session — to play a warmly-received show in April 2019 to numerous friends and family. Soto is half Costa Rican and a frequent visitor ("They have a cool little scene down there that follows indie and hardcore," he says) and this show in San José finally completed the revival cycle for the entire band.
Inspiration restored, Halo of Hurt swells with energy and intrigue. "Harbor" captures Seahaven's evolution perfectly: guitar tones shimmering like ripples on a lake, just before the sturdy riffs of a gripping chorus — and a potential new live staple — barrel their way in. Another haunting standout, "Moon" is well worth the sleeplessness it may induce, with its distorted guitar screeches, Findlay's skittering snare, and Soto's dusky lullabies ("You were safe below the moon, weren't you?") A cocoon of pretty plucking and ghostly guitar effects, "Bait" may be the most gorgeous thing the band has ever written.
Seahaven completed the self-produced LP at the Omaha, Nebraska studio Another Recording Company in early 2020, mere days before much of the country found itself in indefinite lockdown. While the details of how Seahaven will be ultimately be able to perform Halo of Hurt to fans remain obscured, the band's intent is anything but. "Our fans' online presence has been a big reason for this whole process," Soto says. "Fans being inquisitive, hoping and wishing: Is there a new release? I thought you guys went and did a record in Costa Rica? They never fizzled out. We knew people still cared."