Live Nation Presents:
Katelyn Tarver with Rosie Darling
Wed,
Sep 6
Doors:

7:00 pm
|
Show:

8:00 pm
Tickets: $20.00
All Ages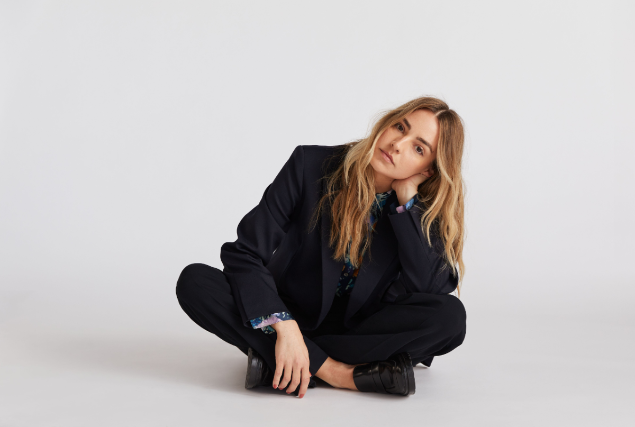 For any event that is listed as 18 or 21 and over, ANY ticket holder unable to present valid identification indicating that they are of age will not be admitted to this event, and will not be eligible for a refund. Any event listed as All Ages, means 6 years of age or older. ALL tickets are standing room only unless otherwise specified. If you need special accomidation, contact info@cafedunord.com.

Support acts are subject to change without refund.

--
Proof of Vaccination: NOT required for entry.
Proof of Negative Test: NOT required for entry.
Masks: Staff and patrons are not required to wear masks though many do. Touring artists often request that patrons in close proximity wear masks. We recomend bringing a mask if you are able. We remain respectful to artists, staff, and patron's comfort level and safety.
--
COVID Warning: An inherent risk of exposure to COVID-19 exists in any place where people gather. You assume all risks, hazards, and dangers arising from or relating in any way to the risk of contracting COVID-19 or any other communicable disease or illness, whether occurring before, during, or after the event, however, caused or contracted, and voluntarily waive all claims and potential claims against the Event Organizers, and their affiliated companies relating to such risks. You expressly agree to comply with all laws and the rules of the Event Organizers when attending the event.​
**The health screening protocols above are subject to change per show at the artist's request. Any show specific changes will be updated via email prior to the show. Thank you for your patience and cooperation.**
Artists
Katelyn Tarver


KATELYN TARVER
BIO 2023

Having spent much of the last 12 months on the road supporting the likes of James Bay, Michelle Branch, Johnnyswim, and Nina Nesbitt, acclaimed singer/songwriter Katelyn Tarver is set to captivate audiences once again on her own 21-date North American & 12-date European headlining tours. With her unique ability to translate complex emotions into resonant melodies, Katelyn Tarver has established herself as an artist who fearlessly explores the depths of the human experience. Having recently signed a new record deal with Nettwerk (SYML, Paris Paloma, Wrabel), Tarver's newest music exhibits her remarkable growth as an artist, with a compelling sound that intertwines self-exploration and self-examination.

Originally from Glennville GA - a quiet rural town with a population of just over 3,000 where her family owned a local candy business - Tarver began at a young age performing in local & national talent competitions, one of which, American Juniors, led to her first US tour and a move to LA.

Over the years, Katelyn has earned success with her songs amassing over 200 million streams, led by her viral hit "You Don't Know." She has an impressive resume of songwriting credits, having co-written Cheryl Cole's #1 Single "Crazy Stupid Love", Joshua Bassett's "Set Me Free" and Old Dominion's "Young". She's also built a stellar acting resume, appearing in shows like HBO's "Ballers" and Nickelodeon's "Big Time Rush."

Following a string of single releases and a few EPs, Tarver issued her first full-length album Subject To Change in the fall of 2021 receiving acclaim from the likes of Rolling Stone, NPR, SPIN, Consequence, FLAUNT, American Songwriter, and more. She featured as the cover artist for Spotify's star-making "Chill Pop" playlist and had multiple tracks placed in the pole positions across Apple Music playlists. With her radiant voice and soul-baring songwriting, the album defined a bold new era in her musical evolution, setting her exacting self-reflection to a gorgeously nuanced sound and delivering a finespun brand of indie-pop that is both intensely vulnerable and powerfully cathartic.

As anticipation builds for her upcoming album following initial singles "What Makes A Life Good?" and "Starting To Scare Me", Katelyn Tarver's unwavering dedication to authentic storytelling and introspection will be on full display with more exciting new music throughout the year.
Rosie Darling
Life is full of coming-of-age moments. For instance, part of adulthood means taking stock of
relationships that no longer serve, and feeling at peace with leaving certain connections — be
they romantic or friendly — in the past. Pop singer/songwriter Rosie Darling has touched on
these topics in the past, particularly on her 2021 EP Coping, but she takes introspection to a
deeper level on her forthcoming debut LP via Nettwerk.
A naturally confessional songwriter who channels her experiences into gorgeously arranged,
minimal pop, the Boston-born, Los Angeles-based singer is the most vulnerable she has ever
been on this latest batch of songs. "The new stuff I've been working on, I'm a little scared of it,"
Rosie admits. "But I think it's a good thing. These songs feel elevated, like a more mature
version of myself. It's less 'hey, you hurt my feelings' and more 'why did I let you hurt my
feelings?'"
To achieve an "organic, less-is-more" aesthetic, both sonically and visually, Rosie teamed up
with longtime producer and collaborator Justin Gammella, a handful of Swedish-based
songwriters Boy in Space, Winona Oak, Hilda Stenmalm, and Wynter Bethel of the
skyrocketing indie duo Tommy Lefroy. Rosie also decamped to the more rural setting of
Washington State, where she filmed visuals in a National Forest — out in the open, away from a
studio setting. In her stark and gorgeous "Lost On You" video, Rosie wanders alone through
late-fall foliage and taps out a piano melody amid a stark, snowy landscape. In this pastoral
setting, Rosie finds comfort in isolation and a touch of fear — will she ever find her way out of
the woods?
"For all of the visual content, I was like, 'We gotta go in the woods. We gotta go outside. We
need to be in the moss. We need to be in the trees," Rosie says of her vision.
Always pushing herself forward, Rosie begins the songwriting process with just a word or an
idea, which builds through creative collaboration and Rosie's own love of layered lyricism. "In
pop music, you hear a lot of the same rhymes over and over again," Rosie muses. "I like there
to be a huge metaphor that reveals itself along the way... It's layered and different every time. A
lot of the stuff that I've been writing more recently is a little bit outside of the traditional pop
structure. It feels less safe. It feels like a risk — and more vulnerable."
The result is a stunning collection of poetic alt-pop tracks that unpack the grief from lost
friendships and relationships. There might be pain, but ultimately Rosie's introspection leads to

personal growth and catharsis. The stories might be personal, but they are also intensely
relatable — listeners will immediately connect to Rosie's words and find their own relief.
Opening with the gradually escalating piano ballad "Lost On You," Rosie's debut LP transitions
to a poignant duet with Swedish singer-songwriter Boy In Space, "Nail In The Coffin," which
will resonate with anyone preparing to cut something — or someone — off for good. "I wanted to
write a song about a relationship ending on bad terms and needing to walk away from it even
when you have unresolved conflict between each other," Rosie adds. "I think as someone who
wants peace and resolution, it's hard to fully leave something when you don't feel like they've
understood you or that you maybe didn't understand them, and you have to end it in conflict with
each other. That's life sometimes though! We don't always speak the same languages and
sometimes we have to walk away and end things unresolved and that's painful."
On the raw, soulful, and poignantly harmonized "Overthrown," Rosie is joined by Swedish
singer-songwriter Winona Oak; together, they weave a cinematic tale about "accepting defeat,"
as Rosie says. Emulating Imogen Heap's famous folktronica ballad "Hide And Seek,"
"Overthrown" plays with the harmonizer as it spins a tale about acceptance. "It's like, let's face it.
We're doomed, and let's just accept it in whatever capacity that is," Rosie adds.
Later, the aching, intimate "Justify" layers Rosie's delicate vocals to create lush harmonies
before culminating in a booming crescendo. Opening with light acoustic guitar, "Justify" blooms
with more folktronica harmonies and explodes into an arena-filling bridge. Lyrically, "Justify"
outlines a relationship where one person rationalizes poor treatment. "'Justify' comes from a
place of realizing that no matter how much you care about someone, if they aren't treating you
as an equal, it's not a relationship you want to have anyway," Rosie explains. "If you're
constantly holding onto the good in someone and ignoring the red flags, there will come a point
where you will have to choose yourself and this song represents that moment to me."
Rosie's journey continues on the thoughtful piano track "Boxes," which is a companion piece to
"Justify." Against somber piano, Rosie considers the end of a relationship as the keys echo as if
in an empty room. "'Boxes' is about making yourself small around somebody else who is
dimming your light," she explains. As Rosie discovers, she has an inner strength that'll carry her
through the hardest times.
On the self-effacing and congenial "Villain," Rosie acknowledges that she only has so much
control over how others will feel about her. "It's OK if you hate me, I used to hate me too," she
shrugs, deciding that if someone has to paint her as the "villain" in their narrative to gain closure,
then they are entitled to those feelings. Rosie expands: "It's kind of like, you can think what you
want to think about me, and if I'm the villain in your story, I can find peace in that."
If there is any song that sets the tone for Rosie's latest collection, it's the serene "I'm Different
Now." Over barely there string plucks, Rosie reflects on the ways she has grown after getting
some necessary distance. "The lyrics are, 'Oh, I hope one day I love again, another way,

because I am different now.' It's not that I'm incapable – I'm just different," Rosie says. "It's
hopeful, but it's also recognizing that something changed you."
Personal growth is painful but necessary. If you face life's changes head-on, however, there is
always a light at the end of the tunnel. "I really want this album to invite you to look within
yourself," Rosie concludes. "Take account of your life and try to be able to trust again, even if it
means being more cautious. I want to celebrate the thorny process, feel the pain of it and
hopefully, find healing. I want to encourage people to have a stronger heart and an appreciation
of who we are becoming no matter what life throws at us. Let's get to the other side!"