Live Nation Presents:
Bailey Spinn with Cayley Spivey
Sun,
Sep 24
Doors:

6:00 pm
|
Show:

7:00 pm
Tickets: $25.00 - $50.00
All Ages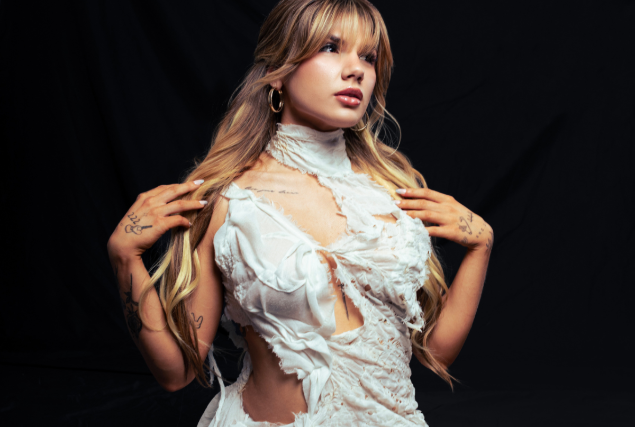 Details should be as follows: VIP Meet & Greet Check-in will start at 4:15 and will close at approximately 4:50pm. No exceptions will be made for late arrivals. For check-in, you will need the e-mail used to purchase tickets along with the order name and number. Upon check-in, you will receive your VIP lanyard and gift.

If you are accompanying a minor to VIP Meet & Greet but do not have a ticket to the show, check-in will give you a wristband that you must wear during Meet & Greet. Please note that non-VIP Meet & Greet companions without a ticket to the show will not receive a lanyard or VIP gift and will be escorted out once the Meet & Greet concludes.

At 5pm, you will be escorted to the VIP M&G area. Each individual will be allowed 1 professional photo with Bailey Spinn. VIP M&G photos will be sent via e-mail within three (3) days of the show to the email used to purchase tickets. If the e-mail you would like to receive your photo to is different from the purchase e-mail, please check-in staff know of the updated e-mail address. If you do not receive your photo via e-mail by 10/29, please e-mail Rebeca.Partida@nextsteptalent.co.

VIP M&G Package**
ULTIMATE M&G VIP PACKAGE
Want to get the ultimate rockstar experience at the MY WORST ENEMY 2023 TOUR? Get your Ultimate M&G VIP Package! Snap a pic with Bailey and get exclusive, specially-designed gifts along with other perks!
Each Ultimate M&G VIP Package includes:
1 General Admission ticket to the show
Meet & Greet and photo opportunity with Bailey Spinn
VIP laminate and lanyard
Additional exclusive VIP-only gifts
Early entry into the building
Pre-show merchandise shopping opportunity (where available)
Designated check-in
*Locations may vary by venue. See specific date for details.
**Must be 13 years or older. Children under 13 must be accompanied by guardian 18 years or older. Guardian does not need to purchase VIP M&G if they will be escorting a child. More information on check-in will be provided closer to the date of show.


For any event that is listed as 18 or 21 and over, ANY ticket holder unable to present valid identification indicating that they are of age will not be admitted to this event, and will not be eligible for a refund. Any event listed as All Ages, means 6 years of age or older. ALL tickets are standing room only unless otherwise specified. If you need special accomidation, contact info@cafedunord.com.

Support acts are subject to change without refund.

Professional Cameras are not allowed without prior approval. Professional Camera defined as detachable lens or of professional grade as determined by the venue staff. When in doubt, just email us ahead of the show! We might be able to get you a Photo Pass depending on Artist's approval.
Artists
Bailey Spinn
With one of her most exciting years to date, pop-rock musician Bailey Spinn is gearing up for her debut EP, "my worst enemy" for a Thursday, August 10th release date, followed by her soon to be announced tour with dates on both the East and West coast. With well over 18 million followers across social media combined with the literal billions of views her content has amassed over the last few years, the undeniable superstar is ready to conquer the music industry and share her passion for music with her upcoming EP release and tour!
Following the success of her first two songs, "romance is dead," and "runner up" with over 5 Million+ streams, Bailey is ready to conclude her summer with the release of her debut EP "my worst enemy." Inspired by pop-rock stars such as Avril Lavigne and Hayley Williams, Bailey's music is bringing back the nostalgic feel with modern twists including theatrical visuals and gut-punching beats. Using her story-telling abilities - a talent she strengthened through her experience writing out short-form content for social media - Bailey's transformed her thoughts of self-doubt, alienation, mental health struggles, and romantic disappointments through powerful songwriting alongside her producer Kodeblooded and songwriters such as Tiffany Stringer, LOLO, and others. Currently, Bailey has been training her voice and getting more comfortable showing off her natural born skills on her YouTube channel performing covers. Garnering millions of views on her covers alone, Bailey is finally ready to share with the world her personal music and voice. As someone who is a part of the LGBTQIA+ community, Bailey also wanted to make sure her music was a clear reflection of who she is and purposely decided to leave out as many gendered pronouns in her music.
Born and raised in Fairfax, VA along with her two sisters, Bailey grew up absolutely obsessed with social media, fashion, and pop culture. Bailey also grew up being severely bullied by other teens at her school and believes social media helped save her. Once finishing high school, Bailey made the move to San Diego, CA to attend San Diego State University. Once there she began getting recognition for her TikTok page and viral content.
After completing her freshman year of university, Bailey came to the conclusion that higher education was not meant for her at that time and put her all into growing on her various social media platforms. Through persistence and hard work, Bailey would go on to secure more than 18 million followers across all social platforms (TikTok, YouTube, Instagram, Twitter). Quickly rising in the content creator atmosphere, Bailey first became viral on TikTok with her content before expanding out to other social trends at the time and would eventually start releasing covers of songs on her YouTube channel in preparation for her upcoming original music release.
# # #