Live Nation Presents:
The Lemon Twigs with The Umbrellas
Mon,
Dec 11
Doors:

7:00 pm
|
Show:

8:00 pm
Tickets: $24.00
All Ages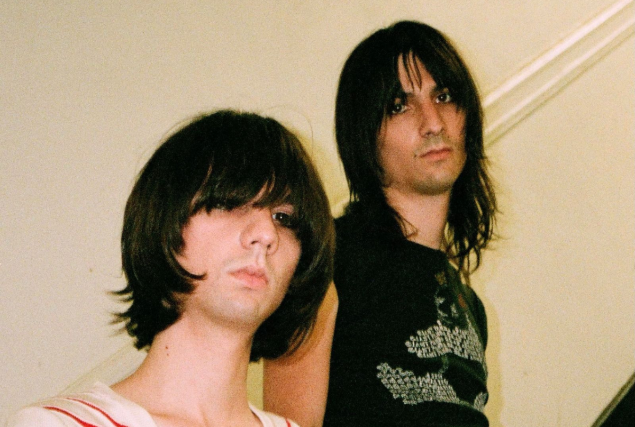 For any event that is listed as 18 or 21 and over, ANY ticket holder unable to present valid identification indicating that they are of age will not be admitted to this event, and will not be eligible for a refund. Any event listed as All Ages, means 6 years of age or older. ALL tickets are standing room only unless otherwise specified. If you need special accomidation, contact info@cafedunord.com.

Support acts are subject to change without refund.

Professional Cameras are not allowed without prior approval. Professional Camera defined as detachable lens or of professional grade as determined by the venue staff. When in doubt, just email us ahead of the show! We might be able to get you a Photo Pass depending on Artist's approval.
Artists
The Lemon Twigs
The Lemon Twigs – Everything Harmony
By Paul Myers

On Everything Harmony, the fourth full-length studio release from New York's The Lemon Twigs, the prodigiously talented brothers Brian and Michael D'Addario offer 13 original servings of beauty that showcase an emotional depth and musical sophistication far beyond their years as a band, let alone as young men. While they eagerly devour musical influences from everything and everywhere, they have somehow arrived at a cohesive and dynamic sound that speaks to our troubled times.

Having bounded onto the music scene with their precocious 2016 debut Do Hollywood, they threw caution to the wind two years later on their followup Go to School. By the time of their third album, Songs for the General Public (2020) The Lemon Twigs had begun to pull from a wide range of multigenerational inspirations, expertly darting from twee chamber pop balladry to full on glam punk, mixing plaintive singer-songwriter confessionals with an almost Syd Barrett sense of outré pop. In an interview from the time, they expressed an interest in creating "something really beautiful sounding" based on vocal harmonies and developing their combined melodic sensibilities into a setting where "the sounds were as important as the songs" themselves.

On Everything Harmony, the brothers have fully realized that vision, with a unified "Lemon Twigs sound" that successfully blends their distinct personalities while giving voice to their diverse and eclectic influences. Opening the album with the unassuming acoustic folk of plaintive "When Winter Comes Around," which echoes the sophisticated grandeur of classic Simon & Garfunkel recordings, they immediately switch things up to the sunny classic pop motif of "In My Head." From that point on Everything Harmony makes it clear that the Lemon Twigs can't be pinned down.

Having recently worked with friends like Natalie Mering, with whom they appeared on the latest Weyes Blood album, they also collaborated with classic rock hero Todd Rundgren on his most recent album, Space Force. Rundgren, himself no stranger to eclecticism, says he can relate to their time-tripping approach to contemporary pop.

"They started when they were five and six years old, doing TV and Broadway and things like that," says Rundgren. "So, they have built-in appreciation for music that is of a couple of generations before theirs. I think they were bored by the music of their own generation, and since you can't fast forward to the music of the future, you just start going backwards to music that was made before you were born. I can empathize with that impulse, because I did that too, back in the seventies."

Released as the album teaser track, "Corner of My Eye" channels an Art Garfunkel-like vocal melody over a moody, vibraphone-tinged backing track suggesting the chamber pop of Brian Wilson.

Everything Harmony was mostly written and recorded between 2020 and 2021, when tracking for the album began at a "very chaotic" rehearsal studio in Manhattan.

"It was one of the noisiest places I've ever been," says Brian. "We did takes of acoustic guitar in between metal bands rehearsing next door and fire engines roaring down 8th Avenue. After months of sessions there, where we recorded the basic tracks to 'Corner Of My Eye', 'In My Head,' 'I Don't Belong To Me,' 'What Happens To A Heart,' 'Ghost Run Free,' and 'New To Me,' we decided enough was enough and we looked into studios that had acoustic echo chambers after hearing East West's chambers during the recording of Weyes Blood's latest record."

They finally got out of town, but instead of 'doing Hollywood' again, they took the tapes to San Francisco's Hyde Street Studios where they added the album's omnipresent vibraphone textures, harpsichord, French horn, strings, and many layers of vocal harmonies. To finish up, they flew home to their brand new studio in Brooklyn to finish mixing and mastering with the help of Paul Millar of Bug Sound.

Brian D'Addario notes the influence of two late lamented artists in particular this time; Moondog, and Arthur Russell whose album Iowa Dream encouraged them to lean into their own melodic tendencies and keep the arrangements delicate.

"Their arrangements entered my head when we were arranging the strings on the album," says Brian, "and we worked for a long time on our vocal blend. On previous records, whoever wrote the song might do most, if not all, of the harmonies on their track but not so much on this one. Our blend is a strength that we tried to exploit as much as possible."

While they had no grand concept for Everything Harmony, both the D'Addarios felt a "palpable mood of defeat" prevailed while writing and recording it. "New To Me" was inspired by their shared experience with loved ones suffering from Alzheimer's, "What You Were Doing" is dressed in the tortured jangle of vintage Big Star, while "Born To Be Lonely," written after watching John Cassavetes' Opening Night, deals with what Brian calls "the fragility that often comes with age."


"The album cycles through moments of depression and isolation on songs like 'What Happens To A Heart,' or 'Born To Be Lonely' to episodes of dizzying euphoria in 'Ghost Run Free' or the title track. There's very little middle ground. On 'What Happens to A Heart' we were going for a 70's Spector vibe, along the lines of Leonard Cohen's Death Of A Ladies Man. We tracked it with me on piano, Daryl Johns on electric bass and Michael and Andres Valbuena both playing drums. I overdubbed a fretless bass. Two pianos, two organs, harpsichord, and celeste. The basic track was done in New York, and strings and French horn recorded in San Francisco. We got the Friction Quartet to overdub themselves about 8 times to get a more symphonic sound. We also recorded about 8 acoustics and bounced them down to two tracks; we did the same with the electric guitars."

Everything Harmony is a unified song cycle born of shared blood and common purpose. With two musical heads being better than one, there's no shortage of ideas to draw on. Their only impediments are time and the challenge of keeping up with their own prolific musical inspiration.

"We share an intuition and tend to be influenced by one another," says Brian, "so the lyrical ideas on this record tend to complement each other. Writing has never been the issue for us. It's completing, editing and compiling that takes the time. We're trapped in a web of songs!"


The Umbrellas
Bay Area jangle pop band the Umbrellas call on the same spirit of wistful reflection and earnest songcraft that defined twee movements of the past. The band's upbeat melodic pop takes cues from various points in indie pop history, recalling the work of artists from K Records, Sarah Records, and Slumberland's '90s rosters while putting a personalized spin on the sound. After releasing a home-recorded EP, the Umbrellas released their self-titled LP in 2021.
The Umbrellas were formed in 2019 by Bay Area musicians Matt Ferrara, Keith Frerichs, Nick Oka, and Morgan Stanley. They took inspiration from a long line of twee and indie pop bands and paisley underground artists and channeled those influences into their first self-recorded tracks. Their four-song Maritime EP was recorded using a drum machine in winter of 2019, and the next year the songs were reissued on a limited run 7" that quickly sold out. The band signed with indie pop institution Slumberland Records for the release of their self-titled debut LP and reconfigured their arrangements to include live drums and expanded production. The album was released in August of 2021.