The Nordic Psychedelic Soul Invasion
Sat,
Feb 18
Doors:

7:00 pm
|
Show:

8:00 pm
Tickets: $30.00
Ages 21 and Up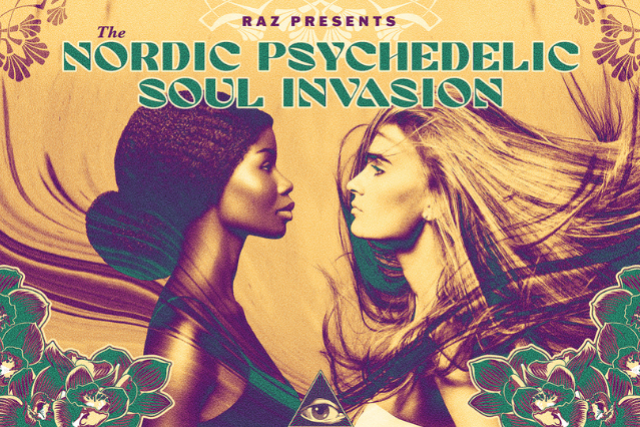 "The Nordic Psychedelic Soul Invasion" is a must see. Raz Kennedy brings to his California community a thrilling opportunity to experience the excitement of his collaboration with some of Sweden"s most gifted performers. This unique three act showcase (Rezá Azul featuring Raz Kennedy & Teresa Kali, Alex Runo & Asynjur) speaks from a deep passion for American Soul fused with the angst of Southern Swedish Swag. This exotic synthesis brings forth fresh grooves packed with emotional texture and messaging. You do not want to miss this rare & soul-stirring opportunity to be uplifted & inspired by Raz' collaboration with some of Sweden's finest artists steeped in the infectious intensity of contemporary soul-fusion. Raz has performed for or with artists as diverse as Sting, Bobby McFerrin, Todd Rundgren, Al Jarreau, Whirtney Houston & Mickey Hart. Between them, Teresa Kali, Alex Runo & members of Asynjur have had the privilege of collaborating with Swedish performing greats such as Carola, Måms Zelmelrlöw, Viktoria Tolstoy, Loulou Lamotte & Emerk Larsson

https://razpresents.com/
For any event that is listed as 18 or 21 and over, ANY ticket holder unable to present valid identification indicating that they are of age will not be admitted to this event, and will not be eligible for a refund. Any event listed as All Ages, means 6 years of age or older. ALL tickets are standing room only unless otherwise specified. If you need special accomidation, contact info@cafedunord.com.

Support acts are subject to change without refund.

--
Proof of Vaccination: NOT required for entry.
Proof of Negative Test: NOT required for entry.
Masks: Staff and patrons are not required to wear masks though many do. Touring artists often request that patrons in close proximity wear masks. We recomend bringing a mask if you are able. We remain respectful to artists, staff, and patron's comfort level and safety.
--
COVID Warning: An inherent risk of exposure to COVID-19 exists in any place where people gather. You assume all risks, hazards, and dangers arising from or relating in any way to the risk of contracting COVID-19 or any other communicable disease or illness, whether occurring before, during, or after the event, however, caused or contracted, and voluntarily waive all claims and potential claims against the Event Organizers, and their affiliated companies relating to such risks. You expressly agree to comply with all laws and the rules of the Event Organizers when attending the event.​
**The health screening protocols above are subject to change per show at the artist's request. Any show specific changes will be updated via email prior to the show. Thank you for your patience and cooperation.**
Artists
Rezá Azul
When the singing duo "Rezá Azul" perform, they stir up an experience of what it feels like when 2 attuned artists connect into an instant recognition of One Love. These two gifted singers, Raz Kennedy from Southern California and Teresa Kali from Southern Sweden, evoke a power in their voices that transcends space, time, race, age and culture. Like 2 stars of a Blue Straggler, these souls collide and merge, becoming an even greater Light that shines brigher than the sum of its parts. Igniting this special Light wherever they go, their songs speak of the deep soul connection that these two share.
Rezá Azul's repertoire consists of an eclectic tapestry of musical styles fusing jazz, rock, indigenous chants, R&B, performance art, gypsy music and improvisation. Teresa's musical background is steeped in gospel, pop & R&B with influences from singers such as Miriam Makeba, Randy Crawford, Ella Fitzgerald, Billie Holiday, Mary J Blige & Yasmin Levy. When coupled with Raz' influences from jazz (Eddie Jefferson & Bobby McFerrin), Rock (Jimi Hendrix & Bayeté), R&B (Smokey Robinson & Bobby Womack), pop (Frankie Valli & The Stylistics) and world music (Salif Keita), these two offer to anyone who is listening an opportunity to be inspired, reflective, enlightened & healed.
Alex Runo
Alex Runo was born into a world filled with soul, blues, rock and gospel. Over the years, he has worked as a musician, songwriter and producer for many successful artists. And now it's time for Alex's first solo project.
Alex's debut solo effort manages to capture the core of the The Alex Runo sound: pop music fused with Black-American Soul that embraces dramatic builds, strong melodies and unexpected twists. The music moves in a borderland where now meets then, high meets low and hard meets soft. At the same time, the whole thing feels both effortless and modern.
Alex Runo, whose real name is Alexander Holmgren, has worked for over 20 years as a musician for some of Sweden's biggest artists including Måns Zelmerlöw, Carola, Tingsek and Robin Stjernberg. He has extensive experience as a songwriter and producer. With the assistance of his long time musical collaborator, Johan Björk, (another incredible Swedish producer, songwriter & multi-instrumentalist), Alex has not only successfully completed an outstanding collection of recorded music, but will now set his sights on launching his first tour as a solo artist.
Asynjur
Asynjur is an ensemble of 3 Nordic women boldly advocating the essence, magic & strength of Soul Music & Feminine Power. Teresa Kali, Kristina Talajic & Ellinor Carlsson's influences draw from a diverse range of musical genres such as the folk music of Northern Sweden, Black American Gospel & R&B, Contemporary Pop, as well as music from Southern Spain & Eastern Europe. These stunning Scandinavians bring a stimulating & rare experience to the stage with a message of community, fierce fun & the resilience of womanhood. Prepare to hear fresh reimagined renditions of songs by Jasmine Sullivan, Mary J. Blige, Beyoncé & H.E.R. just to name a few.