Live Nation Presents:
Nabihah Iqbal
Sat,
Jun 3
Doors:

8:00 pm
|
Show:

9:00 pm
Tickets: $17.00
Ages 18 and Up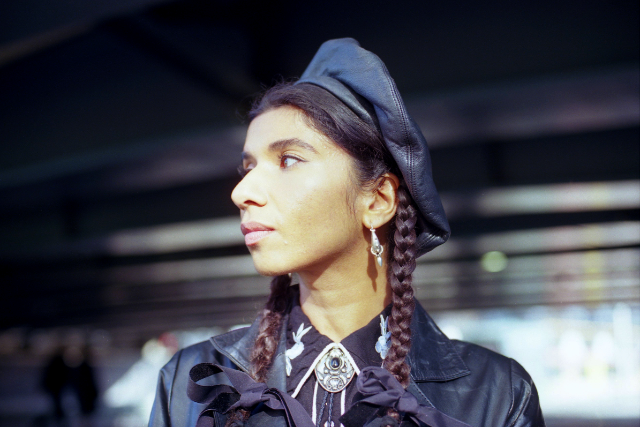 For any event that is listed as 18 or 21 and over, ANY ticket holder unable to present valid identification indicating that they are of age will not be admitted to this event, and will not be eligible for a refund. Any event listed as All Ages, means 6 years of age or older. ALL tickets are standing room only unless otherwise specified. If you need special accomidation, contact info@cafedunord.com.

Support acts are subject to change without refund.

--
Proof of Vaccination: NOT required for entry.
Proof of Negative Test: NOT required for entry.
Masks: Staff and patrons are not required to wear masks though many do. Touring artists often request that patrons in close proximity wear masks. We recomend bringing a mask if you are able. We remain respectful to artists, staff, and patron's comfort level and safety.
--
COVID Warning: An inherent risk of exposure to COVID-19 exists in any place where people gather. You assume all risks, hazards, and dangers arising from or relating in any way to the risk of contracting COVID-19 or any other communicable disease or illness, whether occurring before, during, or after the event, however, caused or contracted, and voluntarily waive all claims and potential claims against the Event Organizers, and their affiliated companies relating to such risks. You expressly agree to comply with all laws and the rules of the Event Organizers when attending the event.​
**The health screening protocols above are subject to change per show at the artist's request. Any show specific changes will be updated via email prior to the show. Thank you for your patience and cooperation.**
Artists
Nabihah Iqbal
In the early months of 2020, Nabihah Iqbal's studio was burgled. All her work was lost, including her long-awaited album. Already suffering from a broken hand and a severe case of burnout, she felt helpless. While the forensic police looked for fingerprints in her studio, she received a call. It was her grandmother; her grandfather had suffered a brain haemorrhage. Nabihah got on a plane to Karachi, Pakistan the next day.
As the Covid-19 pandemic surged, Nabihah spent the global lockdown finding resilience amidst the turmoil. "Going to Pakistan turned into a blessing in disguise," she says. "It affected my perspective on music. At the time, being forcefully removed from the whole scenario of the burglary felt frustrating, but it was the best thing that could have happened." Nabihah spent those months remembering why she made music in the first place. She went back to basics and bought an acoustic guitar and a harmonium. Alongside a loop pedal and voice notes, she spent the next two years crafting her album, 'Dreamer', a high-water mark for the London-born artist.
"For the first time ever, I've made music where I've been more patient with it," she says. "Normally, when you're an electronic music producer, you go into the studio, switch your computer on and start working on Ableton or Logic and then build up from that. Whereas, I decided not to go near all that for ages, and I was also forced into this approach in a way, because of the studio burglary and then being in Pakistan, away from all my equipment. Instead, I had to let the ideas develop in my head."
Using broader concepts, 'Dreamer' is "more introspective, because it's about things that I've been through over the last few years," she says. The album is an intimate journey through snapshots and memories of Nabihah's life. Exploring personal identity and grief through the soft-focus lens of melancholy, the album is not one specific sound. Her left-field lo-fi aesthetic twirls itself throughout as she manages to skate between tracks without ever sounding disjointed. Apart from four of the songs which have live drums on them, Nabihah wrote, recorded and produced the album herself. Incorporating the harmonium and sitar in her music for the first time, instruments reflective of her Pakistani heritage, it's Nabihah's rawest and most personal work yet.
Opener "In Light" acts as a palette cleanser, demanding the listener's attention with its focus on atmospherics. With a harmonium sound laden with spacey effects, the track signals the album's intention: to soothe the listener in moments they feel lost or just can't remember what they seek. Elements of shoegaze weave themselves into "Dreamer" and "This World Couldn't See Us", the latter of which finds Nabihah's voice shimmering above an infectious melodic beat. With its skittish drum rolls, 'Sunflower' luxuriates in its capacity for pleasure, fit for both an intimate moment or bleeding out of a club's sound system. "Gentle Heart" possesses '80s synth-heavy beats which bounce with drunken bravado, the friendliest track on the album for the dance floor while "Sky River" possesses a wobbly baseline which carries it towards a euphoric build-up.
It is a wrenchingly intimate and sweetly playful project. There is a pronounced melancholy underpinning the album, but cracks of sunlight make their way out. Ultimately, 'Dreamer' signals a shift, elevating Nabihah's work to new heights as she adds new colours to her palette.
But, during those initial months in Pakistan, Nabihah felt she couldn't express herself accurately as she was processing multiple layers of emotions. She continued her creative practice through her "herbalist sessions" where she learned about plants and herbal remedies from her grandparents, espousing her learnings to the world via Instagram.
Nabihah also read the works of Thomas Hardy. "His meditations on nature, in his writing, made a really big impact on me," she says. "Reading those things about nature makes you think, 'okay, I need to go and put myself in that place'."
Back in the UK, she embarked on residencies in Scotland and Suffolk, which were supported by Arts Council England and Jerwood Arts. She switched off from the internet, discovering "all my emotions and feelings. I was so sad and unwell before that but hardly anybody knew." Sketches of the album were laid down at London's iconic cultural institution, Somerset House, where she is a practising artist-in-residence.
Nature, Thomas Hardy and the harmonium act as some of the many influences that led to the creation of 'Dreamer', alongside her karate practice, which she started when she was five years old. Allowing Nabihah to be meditative and disciplined, she uses her time in the dojo as an inspirational tool on how focused she can be. "I've tried to apply it to when I'm in the studio and making music," she says. "In Scotland, during the residencies, I would switch my phone off entirely for days and I logged out of all my social media. I found that important."
Her Glory To Sound parties, which have swept London venues, and featured guests as varied as David Olusoga, Gilles Peterson, SOPHIE and Kassem Mosse, have also been a boon of inspiration. "A lot of music is about sharing," she explains. "Whether it's sharing the experience in a club or sharing your sound when you're performing, or even sending a track to a friend, the whole point is to share. That has made me think more about 'what is the actual community of music' which has affected the way I approach my work."
This mindset has underpinned her travels over the past decade as she has had "spiritual moments" listening to Sufi music in Lahore, Booboo music in Sierra Leone and Shakuhachi music in Kyoto. "It makes you realise that there is something universal about music," she explains. "I was an outsider to all three of those musical cultures but it had the deepest effect on me, musically. It just makes you think about music in a different way because you ask yourself, 'why does this exist? Why is it doing that to me?'"
Apart from the physical and mental obstacles Nabihah has had to handle over the past three years, she has been busy professionally — and personally, having been married to fashion designer Nicholas Daley in August 2022. She has made her prolific work rate look effortless with a resume as varied as her music.
Recently, Nabihah received several interdisciplinary artistic commissions. She has collaborated with artist Zhang Ding, been commissioned to compose music for the Turner Prize, collaborated with Wolfgang Tillmans as part of his Tate Modern exhibition and was recently involved in a group performance at the Barbican as part of its major Basquiat retrospective. She has also contributed to Serpentine's recent book '140 Artists' ideas for Planet Earth', edited by Hans Ulrich Obrist, and has given guest lectures at the Royal College of Art whilst being on the Board of Trustees for London's Institute of Contemporary Arts (ICA).
In 2022 Nabihah was commissioned for a special project at the iconic London-based venue Southbank Centre where she performed a "whole sound plus spoken word piece about the under-the-radar history around The Thames" to two sold-out nights. Recently, Nabihah was announced as a guest director for England's largest multi-arts festival, Brighton Festival, in 2023, her "biggest, most challenging and exciting curatorial position" to date.
Nabihah has hosted radio shows on NTS since 2013, frequently appearing across BBC networks like BBC Radio 1, 1Xtra, Asian Network, World Service and 6Music since 2018. Since her debut album, 'Weighing Of The Heart', was released via Ninja Tune in December 2017, garnering critical acclaim from the likes of The Guardian, Pitchfork, Dazed and The Observer, Nabihah has toured the world extensively as both a live act and DJ.
Performance highlights include the Victoria & Albert Museum in London, K11 Art Institute in Shanghai, MoMA PS1 in New York, Synthposium in Moscow, the Elbphilharmonie in Hamburg, Inner Varnika festival in Australia and SXSW in Austin, TX as well as Glastonbury Festival, Warehouse Project, Printworks, Boiler Room, Worldwide Festival, Bestival and Sonar.
She has also written articles for various publications including Dazed and Vice. Mixmag invited Nabihah to act as Guest Editor for their September 2021 issue, which she dedicated to spotlighting South Asian talent from the UK diaspora and beyond. She interviewed key figures within the cultural scene including Riz Ahmed and Sadiq Khan, Mayor of London.
Nabihah studied a joint honours BA in History and Ethnomusicology at London's School of Oriental and African Studies (SOAS). After SOAS, she moved to Cambridge University to study a postgraduate MPhil focused on South African history. She then moved back to London, where she did a law conversion degree and passed the Bar.
With 'Dreamer' neatly wrapped up, Nabihah's relentless pursuit of realising her ambitions has made her consider how she'd like to help the next generations of musical pioneers. "I would like to build my own studio," she says. "I'd love for young women to come into an environment that isn't daunting, to learn about recording and engineering music, and be comfortable and confident enough in those spaces."