Live Nation Presents:
Tommy Prine
Tue,
Oct 17
Doors:

7:00 pm
|
Show:

8:00 pm
Tickets: $18.00
Ages 21 and Up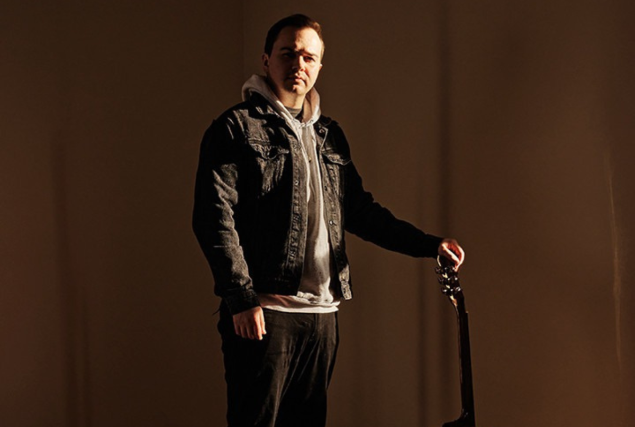 For any event that is listed as 18 or 21 and over, ANY ticket holder unable to present valid identification indicating that they are of age will not be admitted to this event, and will not be eligible for a refund. Any event listed as All Ages, means 6 years of age or older. ALL tickets are standing room only unless otherwise specified. If you need special accomidation, contact info@cafedunord.com.

Support acts are subject to change without refund.

--
Proof of Vaccination: NOT required for entry.
Proof of Negative Test: NOT required for entry.
Masks: Staff and patrons are not required to wear masks though many do. Touring artists often request that patrons in close proximity wear masks. We recomend bringing a mask if you are able. We remain respectful to artists, staff, and patron's comfort level and safety.
--
COVID Warning: An inherent risk of exposure to COVID-19 exists in any place where people gather. You assume all risks, hazards, and dangers arising from or relating in any way to the risk of contracting COVID-19 or any other communicable disease or illness, whether occurring before, during, or after the event, however, caused or contracted, and voluntarily waive all claims and potential claims against the Event Organizers, and their affiliated companies relating to such risks. You expressly agree to comply with all laws and the rules of the Event Organizers when attending the event.​
**The health screening protocols above are subject to change per show at the artist's request. Any show specific changes will be updated via email prior to the show. Thank you for your patience and cooperation.**
Artists
Tommy Prine
Tommy Prine's debut album "This Far South'' coming June 23, 2023 is not only a long awaited introduction but a testimony to Prine's 20's and the loss, love, and growth that has defined them. Co-produced by close friend and kindred musical spirit, Ruston Kelly, and beloved Nashville engineer and producer, Gena Johnson, the album is rich and dynamic from cathartic jams to nostalgic storytelling.

The son of late songwriting legend, John Prine, Tommy Prine grew up in Nashville surrounded by music, art and writing. As a child, he thought all parents were musicians, as his father "going to work" meant performing shows for adoring fans and writing songs. Tommy learned to play guitar by watching his father play, copying the ways his fingers moved and inadvertently developing his own singular style. Summers in Ireland lent their own inspiration, as did 10 straight years camping at Bonnaroo. Prine's musical tastes grew to become decidedly eclectic, spanning John Mayer, Outkast, Bon Iver, the Strokes and more.

It wasn't until Prine reached his mid-twenties, though, that he considered a career of his own in music and began to share with others the songs he wrote in private. His songs were quickly met with excitement and enthusiasm, which sonically brings together a colorful patchwork of musical influences and lyrically explores existential questions and emotional experiences.

The album's title track, "This Far South,'' marks a turning point in Prine's life as he found himself struggling to escape a dark, aimless period. He ultimately found the courage to act on choices that would see him to the other, brighter, side.

"There were several years where I felt without purpose, spent all my time partying, and just existing. I found myself at a fork in the road and chose the better path, and in that moment, I swore I would never be This Far South again."

Grief is a major throughline of Prine's current work. In 2017, Prine lost his best friend to an overdose.

"Since then, I have lost some more friends and have others who are still navigating the ups and downs of struggles with drug abuse."

His song, "Letter To My Brother," was written as a message to the friends he's lost, those in Recovery, and to friends who are still struggling.

He still grapples with the passing of his father in April of 2020. "The world lost one of the greatest songwriters of all time, but I lost my dad." Prine bears the loss of his father and the memories he carries for others on the track, "By The Way."

"The comment I get the most is how much I look like him, and sometimes it makes me feel like I'm a sad reminder to those who loved him."

While navigating that loss has been difficult, he's found solace in connecting through music with others who have lost loved ones.

"When I'm playing certain songs, I can literally look out in the crowd and tell who else has lost their dad," he says. "I can immediately tell which people have experienced, specifically, losing their father. They'll come up and tell me afterwards, and I'll be like, 'Yeah, like, I figured that this conversation was going to happen,' because I could see their reaction. It's been really powerful to see real-deal evidence that grief is a shared experience, and that suffering is a shared experience between humans."

Prine capped off 2022 with his first solo tour across the United States. He was heavily involved with You Got Gold, an event series in Nashville honoring the life and songs of John Prine, and performed at AmericanaFest as an official showcasing artist. He also debuted two original songs, "Ships in the Harbor" and "Turning Stones."

"Ships in the Harbor" is a tender meditation on impermanence and change, with Prine communicating the universal experience of loss through poetic observations of the seemingly mundane. The song found its way onto a series of editorial playlists including Spotify's Fresh Folk playlist and Amazon's Fresh Folk & Ameriana playlist. It was also praised by a number of outlets including Billboard, Garden & Gun, and Saving Country Music who wrote, "With one song, Tommy Prine has already accomplished what many musicians and songwriters work their entire careers to accomplish, which is to make such an indelible emotional connection with an audience."

This year, alongside his own runs of headline shows, Prine opened for Tyler Childers on his "Send In The Hounds Tour" in London. He was also named one of Amazon Music's 2023 Breakthrough Artists to Watch.

"I feel like I've learned more about myself in the last year and a half than I ever have in my life," Prine says. "And I think that speaks a lot to doing something that I'm passionate about. I love and respect the craft. Just hitting the road and doing what so many people before me have done and will continue to do, it's really resonated with me. I think it's transformed me into the person that I am meant to be."