Live Nation Presents:
BAILEN
Wed,
Mar 22
Doors:

7:00 pm
|
Show:

8:00 pm
Tickets: $24.00
Ages 21 and Up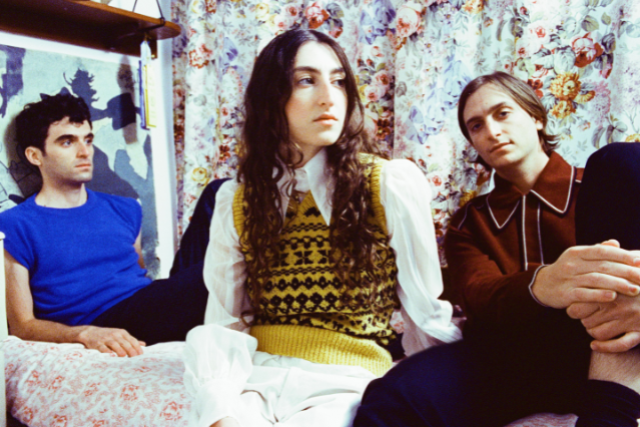 For any event that is listed as 18 or 21 and over, ANY ticket holder unable to present valid identification indicating that they are of age will not be admitted to this event, and will not be eligible for a refund. Any event listed as All Ages, means 6 years of age or older. ALL tickets are standing room only unless otherwise specified. If you need special accomidation, contact info@cafedunord.com.

Support acts are subject to change without refund.

--
Proof of Vaccination: NOT required for entry.
Proof of Negative Test: NOT required for entry.
Masks: Staff and patrons are not required to wear masks though many do. Touring artists often request that patrons in close proximity wear masks. We recomend bringing a mask if you are able. We remain respectful to artists, staff, and patron's comfort level and safety.
--
COVID Warning: An inherent risk of exposure to COVID-19 exists in any place where people gather. You assume all risks, hazards, and dangers arising from or relating in any way to the risk of contracting COVID-19 or any other communicable disease or illness, whether occurring before, during, or after the event, however, caused or contracted, and voluntarily waive all claims and potential claims against the Event Organizers, and their affiliated companies relating to such risks. You expressly agree to comply with all laws and the rules of the Event Organizers when attending the event.​
**The health screening protocols above are subject to change per show at the artist's request. Any show specific changes will be updated via email prior to the show. Thank you for your patience and cooperation.**
Artists
BAILEN
Tired Hearts, the new album from rising indie-pop power trio, BAILEN, delivers a dazzling set of songs that navigates the space between the heart's expectation and the head's sober reality. New York based siblings, Daniel, David, and Julia's second full-length album for Fantasy beats with empathy, vulnerability, and resolve.

At times intricate and playful, measured and elaborate, the 12 original songs on Tired Hearts wrestle with an uncertain future where ethics and morality—both communal and personal—seem to be constantly shifting. Locating one's compass amidst the chaos—a world-wide pandemic, toxic social media culture, economic insecurity and political turbulence—is at the LP's core.

Producer Brad Cook (Bon Iver, Waxahatchee, Snail Mail) who, along with the band, co-produced Tired Hearts, helped to expand BAILEN's ambition beyond what they initially envisioned. "We'd played the last record live a hundred times before recording it, so we tracked a lot of it live," Daniel explains. "With Brad, we took a collagist's approach. It freed us up to explore and be sonically adventurous."

In contrast to the road-tested songs on their accomplished debut LP, 2019's Thrilled to Be Here produced by John Congleton, many of the songs on Tired Hearts were honed in the studio as opposed to live on tour – "the songs changed so much over the course of recording process," Julia remarks.

Most noticeably, Cook encouraged the trio to experiment with how they sing. "We deliberately used the more vulnerable parts of our voices," Julia says. "After not being in the studio for years, we were in vulnerable places, and this record reflects the frustration and tenderness of that time." "We pushed ourselves lyrically, it's the most exposed, intimate music we've written as a result," David affirms.

Indeed, BAILEN's radiant harmonies, spare, synth-driven tracks, and futuristic, ear-catching arrangements usher in Tired Heart's exhilarating avant-pop evolution. "Shadows," affectingly captures "the moment you see someone and realize you can spend the rest of your life with them." "Nothing Left to Give" echoes of HAIM's sparkling pop, while "These Bones," contains a hint of Phoebe Bridgers' hushed intimacy.

Perhaps no two songs embody that fresh ethos (and the band's incredible range) more than the high-gloss, New Wave dance track "Call It Like It Is," and the stunning "BRCA (Nothing Takes Me Down)," which takes its name from the hereditary breast cancer gene that Julia and her mother (who is a breast cancer survivor) share. Over the track's slow building rhythmic pulse, Julia sings of hospital gowns and uncertainty, untying a complex knot of familial anxiety, guilt, and acceptance, while embracing the determination to move forward: I'll still live like I'm dying/ But I won't let it take me down, she insists. "It's about finding ways to not be defined by these circumstances, and to move past them with resilience."

Raised and rooted in New York City by classically trained musician parents and their wide-ranging, eclectic record collection, BAILEN has emerged as a favorite in indie circles by cultivating a passionate following via word of mouth, robust playlisting and a stream of steady touring and collaborating with artists such as Amos Lee, The Lone Bellow, Joseph, and Hozier to name a few.

On Tired Hearts, their exquisite and thought-provoking new album, BAILEN learns how to dream in the face of life's uncertainty and in the process, moves forward aware, resilient, and hopeful. "This album is a breakthrough for us," Daniel says. "It's been a rocky road, but we're really grateful that it's led us here."
Sway Wild
Sway Wild was born on a small island in the Salish Sea.
Following a two-month sailing voyage through the remote anchorages of British Columbia, acclaimed indie-folk duo Dave McGraw & Mandy Fer, joined by longtime friend Thom Lord, returned to their San Juan Island, Washington home still hungry to explore. The result was nothing short of an artistic epiphany; an evolution of sound that called out loudly for a new name. Sway Wild released its self-titled debut album worldwide in 2019.
Sway Wild's songs navigate the corners of rock, folk, pop, jazz, prog, and funk. At its nucleus, it is music saturated in gratitude for well-lived lives and sympathetic to our shared humanity. McGraw says, "We want to make music that allows people to feel what they need to feel." Fer and McGraw's gorgeous harmonies paired with moving lyrics serve to both process and share their jubilation, grief, and frustration with a complex and deeply imperfect society.
Perhaps most remarkable is Fer's astonishing electric guitar work. Using her beloved Fender Stratocaster for both lead guitar pyrotechnics and chordal rhythms, often at the same time, Fer challenges the listener to comprehend how she manages to extract so much feeling from six strings and an amplifier. With this album, laden with Fer's potent electric guitar solos, she has decisively placed herself within the vanguard of female guitarists claiming their rightful place in an artistic pantheon that has historically been dominated by men. McGraw and Lord, who met as wildlife biologists studying endangered California condors in the Grand Canyon, provide unwavering support for Fer's formidable musicianship.
Sway Wild was recorded in Portland, Oregon at The Hallowed Halls, a historic Carnegie Library, by engineer Justin Phelps (Cake, Galactic, Bob Weir), whose expertise at the helm is tangible in the warmth and presence of the finished product. An impressive cadre of the band's friends and heroes brings the songs to their full, frenzied potential. Birds of Chicago and Sean Hayes provide guest vocals, members of MarchFourth add the irresistible energy of a full horn section, and cellists Skip VonKuske (Portland Cello Project) and Anna Fritz, along with Anna Tivel on violin, contribute the brooding dynamism of bowed strings.
For Fer and McGraw, the sailing expedition served as a kind of sabbatical from seven years of heavy international touring, sharing stages with the likes of Iron & Wine, Gregory Alan Isakov, and Mandolin Orange. The days on the boat were filled reading books in quiet green coves, watching humpback whales and black bears for hours on end, and talking over simple dinners of freshly baked bread and fish caught from a creaky plastic rowboat. Inspired by their journey, the three former band mates returned to their pastoral island and took to playing music in Fer and McGraw's living room, with no aspirations other than to enjoy the process of creation.
In the ensuing months, Fer and McGraw departed from their well-established acoustic approach in almost shocking fashion, each returning to the instruments on which they began their respective musical trajectories as teenagers. With Fer refocused on electric guitar, McGraw behind a drum kit for the first time in over a decade, and Lord on electric bass, the trio allowed themselves to rediscover everything they loved about making music. This soon gave birth to a creative torrent of new songs, and the trio emerged as a fully formed band, organically and unexpectedly, with a sound transformed. With a fresh sense of purpose, the new material was honed on tours across the U.S. and in Europe, performing alongside band favorites Lake Street Dive, Charlie Hunter Trio and others.
The name Sway Wild evokes a specific feeling. From the beginning, Fer, McGraw, and Lord intended this band, and this album, to reflect what the endeavor felt like to them: a pathway to the uninhibited unfiltered core that we all possess. The words themselves are an invitation, if not a command, to seek out this untainted part of ourselves. In many ways, Sway Wild's music is the product of truly wild places, and, like ribbons of light piercing a dark green canopy overhead; it can help us find the wildness that is unquestionably still within us.