Live Nation Presents:
Louise Post (of Veruca Salt)
Sat,
Jun 24
Doors:

7:00 pm
|
Show:

8:00 pm
Tickets: $22.00
All Ages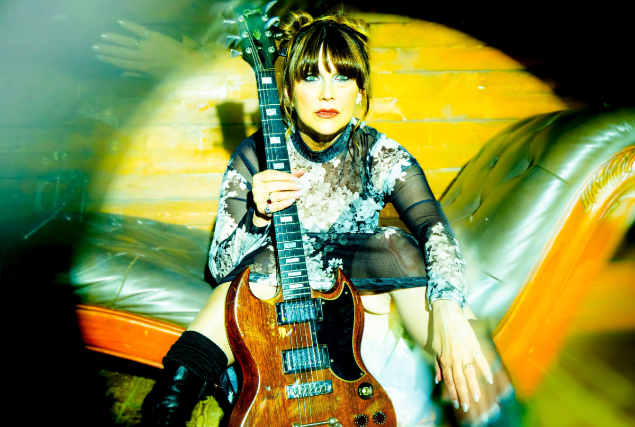 For any event that is listed as 18 or 21 and over, ANY ticket holder unable to present valid identification indicating that they are of age will not be admitted to this event, and will not be eligible for a refund. Any event listed as All Ages, means 6 years of age or older. ALL tickets are standing room only unless otherwise specified. If you need special accomidation, contact info@cafedunord.com.

Support acts are subject to change without refund.

--
Proof of Vaccination: NOT required for entry.
Proof of Negative Test: NOT required for entry.
Masks: Staff and patrons are not required to wear masks though many do. Touring artists often request that patrons in close proximity wear masks. We recomend bringing a mask if you are able. We remain respectful to artists, staff, and patron's comfort level and safety.
--
COVID Warning: An inherent risk of exposure to COVID-19 exists in any place where people gather. You assume all risks, hazards, and dangers arising from or relating in any way to the risk of contracting COVID-19 or any other communicable disease or illness, whether occurring before, during, or after the event, however, caused or contracted, and voluntarily waive all claims and potential claims against the Event Organizers, and their affiliated companies relating to such risks. You expressly agree to comply with all laws and the rules of the Event Organizers when attending the event.​
**The health screening protocols above are subject to change per show at the artist's request. Any show specific changes will be updated via email prior to the show. Thank you for your patience and cooperation.**
Artists
Louise Post (of Veruca Salt)
Louise Post
Sleepwalker
(El Camino Media)
Louise Post knows a thing or two about what it takes to stay relevant in the music industry: For the past three decades she's been the co-frontwoman of the celebrated act Veruca Salt whose songs like "Seether" and "Volcano Girls" are still in regular rotation on alternative rock radio. Although Veruca Salt has consistently released music with Post as the sole constant member, during the pandemic she started writing a collection of songs that felt more personal and less like the follow-up to Veruca Salt's 2015 return-to-form, Ghost Notes. "Out of nowhere, these songs started flowing out of me and almost appeared to be writing themselves" Post explains, adding that many of these melodies came to her during the transitive state between sleep and consciousness known as hypnagogia. "What was making itself so clear to me and just seemed so obvious was that this was my purpose: writing music, writing songs and releasing them."
During these inspired solitary sessions, Post eventually wrote three albums worth of material and was able to edit it down to this collection of eleven songs with help from producer, engineer and multi-instrumentalist, Matt Drenik (Lions, Battleme). "I'm a social creature and I love the magic of working with others. I also need to be held accountable, and I really believed in Matt and was excited about working with him as an artist and collaborator. He had come to know my songs pretty intimately and quite simply, he believed in me," she explains. Correspondingly, Post was very active in the recording process, playing guitar, bass and piano, while a cast of other musicians helped her fill out the sound and collectively build the sonic textures that support this expansive collection of music. "There was a lot of collaboration in the studio: Some songs we built from the ground up and for other songs, I had a very clear idea in my head about how it should be produced and Matt helped facilitate that," she says. In other words, Post was dedicated to her vision of Sleepwalker without feeling constrained by it—and that dichotomy allowed for happy accidents that only reveal themselves upon multiple listens.
From the mesmerizing and moody opener "Queen of the Pirates'' to the electronica-inflected pop of "All Messed Up" and the Pixies-esque guitar grandeur of "Guilty," Sleepwalker is an album that showcases the various aspects of Post's songwriting while still staying true to the distinctive niche she's carved out for herself through her work in Veruca Salt. "Of course I love guitar-driven music but that wasn't important to me when I was making this album," Post explains. "I was really focused on exploring when it came to the arrangements; on "Secrets", it hit me one day that 'this needs a trumpet solo'—and luckily Matt knew a trumpet player who really elevated the song." (The same trumpetist brought his magic to "Don't Give Up.") "The sky was the limit when it came to orchestration on this album," Post says. She also believes that the influence of her child exposing her to artists like Billie Eilish and Finneas and her own admiration for Post Malone and Imagine Dragons, among others, impacted her songwriting and helped give this collection a more modern sensibility.
However, despite the pop influences on Sleepwalker, there's a darkness beneath the surface of these songs that gives the album a haunting quality that is far from accidental, it's closely aligned with Post's conceptual vision. "I have always identified as a sleepwalker," Post says of the album's title. "I slept-walked around my house routinely when I was a child, and even down the street. I believe in hindsight it was me trying to process what was going on in my home with my parents' troubled marriage. As far as I know, I stopped sleepwalking after the divorce when I was eight, but it has always been a part of me that I feel protective of, a little girl who I feel sad for, " she continues, adding that sleep has also served as her gateway to creativity. "Sometimes in college, I would have dreams in which I couldn't distinguish between dream life and reality. I internalize what I see and read and in a very real way. I do not have thick skin and sometimes feel I am far too sensitive for this world. Songwriting helps me process all of it."
That sensitivity and attention to her inner child is evident on this album, particularly when it comes to songs like the piano-driven "Hollywood Hills," which Post herself describes as "wistful." "I think [that song is] looking back lovingly on the past, paying homage to it, while drawing a clear distinction between the past and present," she adds. "It's a really bold thing to do at this moment in time for me personally to come out in a solo context after having been known for being in a band for my entire career."
In that spirit, Post insists that recording and releasing Sleepwalker wasn't only a creative endeavor but that she also felt a responsibility to add her voice to the common collective and be loud regarding injustices, whether it came to relationships ("All Messed Up"), feminism ("Queen of the Pirates") or politics ("Killer"). "Throughout it all, I felt like my higher purpose was screaming at me, trying to wake me up from my despair and setting me on a path of creativity," she says. "I had felt paralyzed and desolate as the pandemic set in and writing these songs helped snap me out of my stupor and reclaim a small part of the solution."
Post is quick to add that her connection with and the interest generated by the fans she has cultivated over her career was also a motivating force during those difficult moments when self-doubt set in. "If they weren't there I don't know that I would have felt so strongly compelled to deliver this album, but with my listeners' support I can say that I have the humblest opportunity to lift spirits and make connections through words and melodies with the magical medium of music," Post explains."The gift is mine and I am really grateful for it."