Live Nation Presents:
Thunderstorm Artis
Thu,
Oct 19
Doors:

7:00 pm
|
Show:

8:00 pm
Tickets: $17.00
All Ages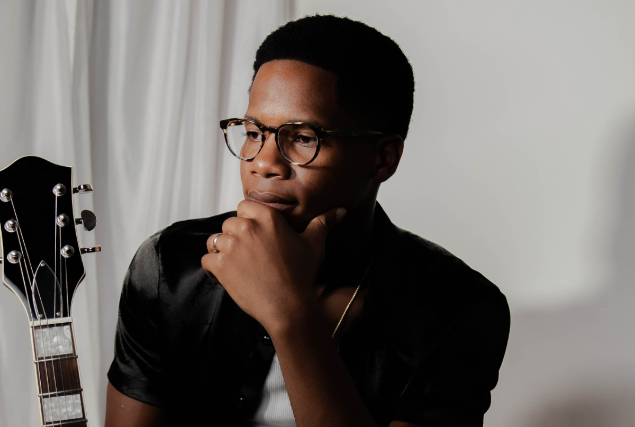 For any event that is listed as 18 or 21 and over, ANY ticket holder unable to present valid identification indicating that they are of age will not be admitted to this event, and will not be eligible for a refund. Any event listed as All Ages, means 6 years of age or older. ALL tickets are standing room only unless otherwise specified. If you need special accomidation, contact info@cafedunord.com.

Support acts are subject to change without refund.

Professional Cameras are not allowed without prior approval. Professional Camera defined as detachable lens or of professional grade as determined by the venue staff. When in doubt, just email us ahead of the show! We might be able to get you a Photo Pass depending on Artist's approval.
Artists
Thunderstorm Artis
For his entire life, singer/songwriter Thunderstorm Artis has stayed devoted to making music that strengthens the heart and awakens the soul. A multi-instrumentalist who got his start playing in a band with his 10 siblings as a little kid, the 27-year-old Hawaii native has since brought his warm yet powerful vocals and vibrant musicality to such endeavors as touring with Jack Johnson and sharing stages with legends like Booker T. Jones. After years of refining his craft and carving out his singular identity as an artist, the Oregon-based musician has created his most captivating work to date: a genre-bending batch of songs built on both emotionally raw storytelling and incisive soul-searching, offering much-needed insight into living with hope even in the darkest of times.
Born into an exceptionally musical family—his father Ron was a Motown session player who performed on iconic tracks like Michael Jackson's "Thriller," while his mother Victoria toured as a backup singer for the likes of Lena Horne—Artis grew up in Oahu and started playing drums at age nine, later taking up piano, guitar, and harmonica. Although he'd dabbled in songwriting throughout his childhood, he found a whole new sense of artistic purpose after using music to cope with the sudden death of his father. "Once I started really focusing on songwriting, I realized my music could bring healing not only to me, but to other people in pain," says Artis, who was 13 when his father passed away. Raised on everything from jazz to country to classic soul singers like Sam Cooke and Marvin Gaye, he immersed himself in sharpening his songcraft and soon began touring extensively with his older brother, acclaimed singer/songwriter Ron Artis II. With his debut EP Haunted released in 2018, Artis next emerged as a finalist on NBC's "The Voice" in 2020, in addition to becoming a mainstay at Wanderlust festivals throughout North America.
In bringing his latest output to life, Artis worked in Los Angeles with producers John Alagia (NEEDTOBREATHE, Lukas Nelson & Promise of the Real) and Jesse Siebenberg (Lissie, Blue Sky Riders) and in Nashville with producer Dan Agee (Jessie James Decker, The Cains). Spotlighting the stunning range of his voice more fully than ever before, each song matches his nuanced reflection with a newly expanded sound. "There's been a lot of change for me over the last few years, and this music is an embodiment of who I am now," notes Artis, who married his wife Faith McMaster in 2020 and welcomed their first child into the world in 2022. One of the first tracks penned for his new project, "Take Me to the Fire" unfolds in soulful piano work and moody guitar tones as Artis speaks to the profound transformation that often follows times of struggle. "As I was writing that song, I was looking at it from the perspective of my religion," explains Artis, who's dedicated much of his life to working in ministry. "There's a lot in the text of Christianity about letting go of what doesn't belong, and stepping into the person you're truly meant to be." Another song deeply informed by his faith, "Stand Up Eight" arrives as a bold and urgent anthem graced with potent beats and a searing guitar solo. "The idea of falling down seven times and standing up eight comes from the Scriptures," says Artis. "It's about how no matter how much life knocks you down, you've got to have the strength to keep getting back up."
A prime showcase for his extraordinary versatility, Artis's new body of work also encompasses the cascading folk of "Oh Little River" and the brightly soaring alt-pop of "Surprise" (a gorgeously expressed outpouring of love for his wife). And on "Wildfire," Artis sets his introspection to a spellbinding backdrop of tender acoustic guitar and delicate piano melodies. "Of all my new songs, 'Wildfire' really shows a piece of my history," he says. "At some point in my life, I realized I'd put up these walls to protect myself from the pain I felt after losing my dad. But as I got older, the walls had become more like a prison. 'Wildfire' is about how we all need someone to help us burn those walls down, so that we can find healing instead of hiding from the world."
For Artis, the work of writing such revelatory songs has become its own form of sustenance. "From a very young age, music has been like an anchor for me; I really don't know where it'd be without it," he says. "At this point I don't go anywhere without my guitar—because if I do, I feel like there's a part of me that's missing." But for all the fulfillment he finds in songwriting, Artis always keeps an eye toward the potential impact on his audience. "I believe that artists have a responsibility to explain what they're feeling and put it into their art, so that others can understand themselves better," he says. "So even though I hope my songs give people a better sense of who I am as a person, I also hope the music makes them feel stronger and helps them to grow. I hope it shows them how to love one another, and how to love themselves."